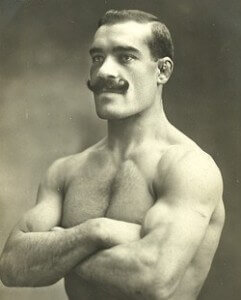 There are a number of ways to increase male libido. You can boost testosterone production, you can improve cardiovascular production, you can work on increasing your mind's "horniness potential"…
Here are 5 ways to naturally increase male libido, some from each category mentioned above:
1) Get your "Arnold" on… hit the gym a little… even if you're not a gym buff, a few times a week will make a massive improvement on your testosterone production. Especially compound workouts with relatively heavy weight, and large muscle groups. All the power/football workouts are magic (squats, deadlift, bench press, leg press)… the bigger muscle groups like your leg muscles are testosterone factories. You'll produce more testosterone, even at rest.
2) Catch some sun rays… if you stay in the house all day playing PS3, 4, Xbox 1 or whatever your nerdy console of choice (just playing, I love video games), then your T levels will drop. Not just because you're on a headset talking to other dudes all day, but because your lacking those manly providing sunrays that are outside. Just stand out there for a few minutes if you can… close your eyes, and feel yourself absorbing it's energy. Yes, sun exposure has been shown to boost testosterone levels. (Note: make sure to put on some sunblock if you're going to be out for a while so you don't end up looking like those raisiny-old white ladies at the beach who are inexplicably black)
3. Eat some fats… if you are on some sort of diet, like nothing but grilled chicken breast and salads, STOP THAT. At least if you want some testosterone. Eat like a skinny chick, you'll end up like a skinny chick. So what if you'll have a little gut… at least you'll have a dick that works (and wants to work!). Don't overload either (too much gut increases estrogen), but make sure to take it quite a bit of fats… good fats, bad fats, it doesn't matter… makes sure to take some in every day. If you really want that six pack, just don't eat them too late, and do some extra cardio. Cut down on carbs a little as well, in their place.
4. Get some cardio in… if you're not into sports, take a run or ride a bike… something to get that blood and oxygen flowing. Doesn't have to be some cross country shit, just get out there and run around the block (at least). The improved blood and oxygen circulation, along with the endorphins, will provide you with a more energetic, positive and VIRILE outlook on things (along with a better responding erection). If you're into sports, the combative nature of your sport of choice will also boost your confidence and manliness as well, making sex seem like something as undaunting as taking a dump. Just don't lose at your sport (studies have shown players on losing teams have a DECREASE in testosterone — as well as the fans — kinda raises the stakes, huh?)
5. Watch some porn without masturbating… might be tough to pull this one off, but studies have shown that men who watched porn without ejaculating prior to working out, lifted significantly more than men who worked out without watching porn before… they attribute this to an increase in testosterone. Not only that, but if you stay weeks without watching something arousing like this, something different and stimulating… your "freaky side" will begin to weaken. STRENGTHEN YOUR FREAKY SIDE… watch some porn without jerking off (hey, you can give in once in a while and rub one out… just don't tell anyone I said so).
With these tips you should be good to increase your libido substantially… if you'd like to learn more ways to naturally increase male libido (along with ways to last longer during sex, increase penis size, strengthen erections, give women multiple orgasms during penetration and more), click here: Increase Male Libido Naturally And More
Have a good one!
-David Carreras aka Mr. Manpower
Mr Manpower's Guide to
Overall Manhood Enhancement
The Ultimate Sex Guide for Men… "male potency without drugs"
–