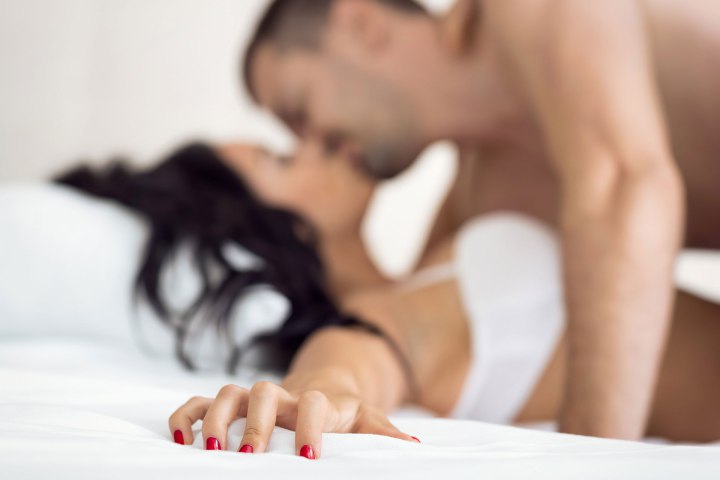 As I've mentioned numerous times before, most women need clitoral stimulation to make them orgasm. The clitoris can be stimulated in numerous ways: Orally, manually, or with your penis. The following are two of the best sexual positions for female orgasm while penetrating.
One way is to position yourself slightly higher, and penetrate her so that you are entering in a more up and down direction, rather than an in and out direction. Concentrate on rubbing the top of your shaft against her clit, up and down, up and down (but still slightly in). A good way to picture this is like your shaft is a saw, and your cutting through the wood (her clitoral area). Make sure that she is really well lubricated before you try this though.
The good thing is that the upper part of your shaft is the least sensitive part of your penis, and you're rubbing against the most sensitive area of her vagina. So you should be able to last pretty long. Switch it up with a quick, deep thrust every now and then to keep her on her toes and gasping.
To give her a squirting orgasm (not every woman can, but many do), you need to simulate her G-Spot. Some women say that this is stronger than a clitoral orgasm, others say its the other way around, and then there are others who can't or haven't been able to. If she hasn't before, warn her that she is going to feel like she needs to pee (because the female ejaculation comes out her urethra, just like urine), but once she gets past the initial discomfort, she should have powerful pleasure followed by an even more powerful orgasm.
The G-Spot is a rough mound the size of a quarter about an inch or two into the vagina, on the upper wall. To hit this, you wanna put her feet up on your shoulders, and make sure her butt is propped up on a pillow. You want to penetrate straight in or even kind of at an upwards angle, so your hitting that top wall. Take your time with this, and ask for feedback on where it feels best. It may take a couple of times to get it down, but the squirting pleasure you give her will be more than worth it.
More Great Techniques and Sex Positions To Make Women Orgasm
My guide, Mr. Manpower's Guide to Overall Manhood Enhancement, has a bunch of techniques and information on how to make your woman orgasm.
It includes different thrusting types and patterns, various ways of hitting her clitoris and G-Spot, how to last as long as you want during sex, and a lot of other very valuable information on woman's orgasm I've picked up over the years. A free oral sex guide is also included.
For more information on how to make a woman orgasm, download the ultimate sex guide today, here: How to Make a Woman Orgasm…
Have a good one!!
-David Carreras aka Mr. Manpower
Mr. Manpower's Guide to
Overall Manhood Enhancement
www.mistermanpower.net
–