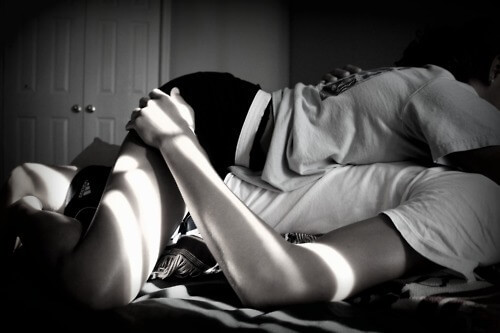 I received a question regarding this today:
"Dear Mister Manpower,
Hi, my name is Mike. I'm writing because I had a sexual anxiety episode the other day, where I couldn't get an erection before sex. Actually at one point, the girl was giving me a handjob, and i was erect. However I lost my erection when putting on the condom.
I would like you to read some of the factors which i thought about that may have played into losing my erection.
1. I am physically and mentally NOT attracted to this girl. I've known her for a very long time, I find her annoying, naggy, a liar at times, and i try to avoid her. But she texted me saying if we want to meet up, smoke weed and have sex. I said to myself, rather than masterbate, I should take her up on her offer, even if it's her, sex is sex.
2. Secondly, I remember complimenting her when i really didn't believe it, which may have been internally making me caught up in an inner voice.
3. Thirdly, she was impatient. Even before i got an erection from the handjob, i had to urge her to continue, and she was looking at me as if to say, "is it gonna work?"
4. She wasn't arousing me, I don't find her sexy
5. I tried to open up to her like you said, "be honest with the girl, she may find it cute and become helpful." I said to her, "sometimes i'll get anxious and have trouble maintaining erection". To which she responded, "Why are you anxious, you don't have to feel this way." Which i didn't find helpful at all.
6. I think she really just sucked, man.
7. And I was sick, i had a cold, stuffed nose to the maximum.
Do you think the reason why I couldn't get erect was a combination of these 7, or it was just my fault for being anxious? Thanks Dave"
My response:
Any one of those things are good enough to make you lose your erection… but even then, if you had enough knowledge on overcoming psychological erectile dysfunction, you still should have been able to get an erection.
With A Strong Enough Erection Quality, You'll Never Have Another "I Couldn't Get An Erection" Moment Again
You should have thought of it like you were just using her to please yourself… if you disliked her that much.  I'm not one for objectifying women, but her terms were up front…
You should have thought about it like she was a means to an end… you ejaculating.
Would I have recommended you performing your best, lasting as long as you can and knocking the pussy out the park?  No.
Just next time, get yours…
But yes, not being attracted to her, feeling guilty, her not being understanding and not being able to breath through your nose are all very real causes of not getting an erection.
Either way, if you couldn't get an erection, there are still things you can do to have a stronger erection that you have command over…. see here…
Next time you'll get a rock hard erection by command… regardless of the scenario.
Good luck in the future!
-David Carreras aka Mr. Manpower
Mr. Manpower's Guide to
Overall Manhood Enhancement
the ultimate sex guide for men… "male potency without drugs"
–