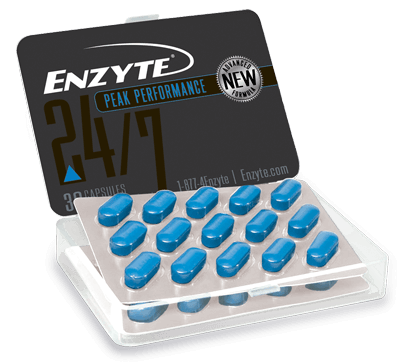 I'm going to be honest…I respect Enzyte. Their product actually does something. Unlike some of these other companies out there.
Also they don't make crazy claims about it making your penis bigger by inches in weeks…
As a matter of fact, Enzyte ads never directly say that their pills will make you bigger… not any more, at least…
My Experience With Enzyte
A few years ago I was going through a very stressful period in my life.
I was full-time in college, had a full-time job, and a full-time girlfriend. Work, work, work… And you already know, extended periods of stress can greatly diminish your testosterone levels, and hence, your sex drive.
Although I loved sex with my girl, I did not crave it as much, and one ejaculation would be more than enough per day (or even more than a day sometimes). So I took Enzyte up on their TV offer at the time. They offered a free month supply. I went ahead and ordered it.
So during that month I did notice an increase in libido and stronger erections.
I was pretty horny all the time. So as for libido enhancement, Enzyte does work. If you look up the ingredients, it is made up of natural aphrodisiacs that have been scientifically proven to improve libido and erection quality.
And I did notice a slightly larger flaccid hang. My penis had a bit more "life" to it, when soft. I had already been performing manual penis enlargement for some time, so I noticed that the Enzyte increased the flaccid hang I had already been gaining….
In This Way, Enzyte Does Make You Bigger
A number of the ingredients found in Enzyte can be purchased separately, in a purer form, but I will admit, their "cocktail" had a good balance…
However, after the one month supply ran up, I figured I'd continue doing the penis enlargement on it's own. I didn't feel like spending any more money on the pills, and didn't want to take on another $30 dollar bill each month or so.
I continued on with the penis enlargement exercises, and learned about techniques specifically for maximizing flaccid gains. I also didn't like that I would only experience the bigger size while on the pills, but as soon as I stopped, I'd lose the effect.
Another thing I did was to continue researching on natural ways to increase my testosterone production, and to this day, I still have strong as hell erections, especially with the continued application of the penis enlargement exercises (they improve erections because of the better circulation throughout the shaft).
To learn everything I've learned about penis enlargement over the years, check this out…
For more on my techniques as a whole, including the penis enlargement, plus other natural ways to boost testosterone and improve erection strength, see here…
Have a good one!!
-David Carreras aka Mr. Manpower
Mr. Manpower's Guide to
Overall Manhood Enhancement
the ultimate sex guide for men… "male potency without drugs"
–