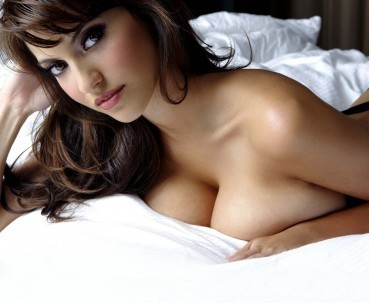 Don't go down that road. 
If you can avoid the conversation altogether, try and avoid asking your girlfriend how you compare in penis size to her last boyfriend.
When I was younger, and much dumber, I had me a sexy little girlfriend by the name of Lily.
Back then I thought my 6 inch penis was huge, and I stupidly asked her if I had a bigger penis than her last boyfriend.  She told me no, that his penis was bigger.
In my obsessive mind this started to drive me crazy.
Every time we had sex I thought about it, and started thinking that she probably didn't enjoy it as much as with her last boyfriend.  I should have never asked her this question to begin with, and since then I have never asked another girl about this.
Asking your girl how her ex-boyfriend's penis compares to yours is just like asking her how many guys she's slept with… why not just hit your head with a hammer??
When I was much younger, one girl who I loved very much told me she slept with 17 guys before me, and she was only 20!
Why the fuck did I ask that?
Some things are just better left alone…
Now if your girlfriend tells you out of the blue that her boyfriend had a bigger penis than you, then chances are she's just a mean-spirited biatch who likes to play with your emotions…
If you get this feeling, then run for the hills as quickly
Something that has given me a little more confidence as to my penis size is natural penis enlargement.  It has increased the length of my erection by about an inch and a half, so I now measure a little over 7.5 inches in length. I've also added girth, and increased my flaccid size.
Now I don't ask, but thanks to internet statistics, I know I'm larger than the average… and that's all I have to know.
For my own personal natural penis enlargement routine (refined through years of research and practice), check this out…
-David Carreras aka Mr. Manpower
Mr. Manpower's Guide to
Overall Manhood Enhancement
www.mistermanpower.net