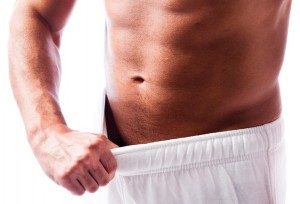 I often times get questions from young guys wondering if their penis is too small.
They tell me that all of their friends have 9 inch penises, and they only have a "measly" 6 inch penis, so they need to learn how to make their penis bigger.
Although the real average penis size is all over the internet, and access to this info is readily available to these men, these guys are still convinced that their 6 inch penis is way below the average.
In reality, their friends are lying… maybe there is one "outlier" in the group that is larger than average, but most of them are close to the average range, and the facts state it: something like 85% of men are within half an inch of 6 inches…. with the other 15% above or below this range.
Porn doesn't help either… this shows a disproportionate sampling of the population. Men with very large penises tend to search out professions where their "talents" can be best utilized, so men with larger penises go into porn more often than men with smaller penises.
So Mr. 6 incher who is a freshman in college has all of his friends bragging about having 9 inchers, and he masturbates to porn that has men with 9 inchers, so this seems to back up his friends' claims of everybody having massive members, and he without a doubt feels undersized.
The moral of the story: MOST DUDES LIE ABOUT THEIR PENISES… and about their sexual abilities in general! They may be honest in every other facet of their lives, but when it comes down to sex and penis size, it's almost as if it's normal for men to lie. I don't understand what they get out of it (because deep down THEY know the truth), but for many guys, this is normal.
I've had several (sad) examples of grown-ass men lying about their penis size and sexual abilities over the years:
A friend, who his whole life has bragged about having a huge penis, had sex with a girl who was a mutual friend. This mutual friend, although it was messed up, shared with me that he had a tiny penis. This guy is in his mid 30's and still bragging, not knowing I know.
I have an uncle who always talked about how "he was short, but his penis was large…". Never quite understood the need for him to share this with me. When I was 18, I took a trip to Colombia, and he paid for me to have an "adventure" with a prostitute, in an all out brothel (I'm not a role model, but it was actually quite awesome!). After I was done, I walked into his "party" and caught a glimpse of him in full glory… nothing worth bragging about. He was about 45 at the time.
In my early 20's I used to work out with a group of guys in the gym (regulars, I had gotten to know over the years) who lifted substantially more than me, to try and gain extra size and strength myself. There was one guy, in his late 30's, who particularly liked to brag to me about his sexual expeditions, which quickly grew old (he didn't seem to care, though). One time he told me that he was able to ejaculate multiple times without losing his erection, and this allowed him to last as long as he wanted to during sex (which impressed and annoyed me at the same time). Then one day, a few months later, he told me he was having a lady friend come over, and must have forgot his earlier story to me, because he said he needed to "release one" on his own before she came over, so that he could last longer during sex. I called him on his bullshit story earlier (which didn't match up), and from that day forward, he cut out telling me his BS tales.
I used to frequent an "Alehouse" sports bar near my house, which had a ladies night that was always packed with hot women. There were a number of other regulars, including one guy who must have been in his late 30's/early 40's. One night, we were both smoking a cigarette outside, and somehow our conversation ended up with how many times we'd have sex with a girl in one night. I told him I was usually happy with two or three shots, where he told me that if he didn't ejaculate at least 6 or 7 times a day, he couldn't function. Once again – I was impressed and annoyed at the same time. He then offered to buy me a shot, and we went inside to his table, where his girlfriend and a couple of her friends were. One shot turned into a few (I was trying to hit on one of the girls at the table), when the conversation turned to sex. Out of nowhere, his girlfriend blurts out that after one shot he's useless… he glanced at me with a quick, sheepish look, and just like the guy at the gym, his bragging rights were up.
So I'm used to it… most men lie about their penis size and sexual abilities. Seems to me that what others think is more important to them than what they themselves think and feel.
===================
If you're average, there's nothing to worry about. Most men around you are average as well. And height, hand size, etc. have nothing to do with penis size. I once received an email from a 6'4″, 240-pound football player, with a size 13 foot telling me he had a small penis (and in this case, it really was smaller than average – 4 inches), looking for ways to make his penis bigger naturally. I've received a few other similar emails as well. There are no rules when it comes to this.
Growing up I always had an average penis size, but felt no reason to lie. Regardless of my acceptable size, I've learned how to make my penis bigger without pills, just to make me more effective in the bedroom. And, although I take no part in the fairy tales, it does feel good to know that I'm now larger than average.
I know, especially after this post, it will be hard for you to believe that you can make your penis bigger… since all men are liars, you may not take my word for it, but I have before-and-after photos of the gains men have made with the natural penis enlargement techniques in my guide… for more info click here…
So even if you are a liar, you will have no need to lie anymore!
Have a good one!!
-David Carreras aka Mr. Manpower
Mr. Manpower's Guide to
Overall Manhood Enhancement
david@mistermanpower.net
–