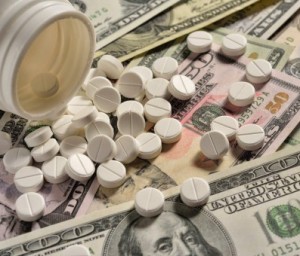 I'm all about all natural male potency…
Doctors are all about prescribing expensive drugs that you'll become dependent on for the rest of your sex life.
While Viagra, Cialis and Levitra will not make you physically dependent, they can and will become a psychological crutch if you take them enough.
If you get used to taking Viagra every time you want an erection, then you will begin to underestimate your body's own, innate sexual potential.
You will believe that you need an outside source (medication) just to achieve a proper and natural sexual response (erection)… that's why I'm against taking medication for erectile dysfunction, when there are so many natural, cheaper and often-times more efficient solutions.
With the proper "erection strengthening exercises" a man can achieve harder erections regardless of his age, performance anxiety, health, diet or medications he's on (blood pressure, diabetes medications antidepressants, etc.)…
I personally have picked up some erection strengthening tactics over the years which have given me erections hard as steel, anchored deeply into my body, which become fully erect in a few seconds without any physical stimulation needed, and which do not go soft at all, until I want them too… (I can even stay hard after orgasm now… a new development).
These natural erection strengthening techniques consist of kegel-like exercises that strengthen your inner "erection muscles" (pc/bc/pelvic swing muscles), as well as others to manually improve the blood flow to your penis…
…combined with some natural libido enhancement tactics to increase your testosterone production, sex drive, and all around potency, harder erections are right around the corner.
Throw out the Viagra or only save it for special occasions… you do not need to take a pill / drugs /medication to have hard erections on command anymore… save money, and gain confidence in your body's own powerful sexual abilities and natural potency.
For more information on how to naturally strengthen your erections with exercises, check out my erection strengthening routine here… harder erection on command are yours for the taking… stop paying these damn rip-off, multi-trillion dollar medical companies… and reclaim your own sexual potency.
Have a good one!
-David Carreras aka Mr. Manpower
Mr. Manpower's Guide to
Overall Manhood Enhancement
The Ultimate Sex Guide for Men… "male potency without drugs"
www.MisterManpower.net
–