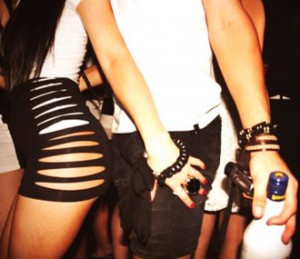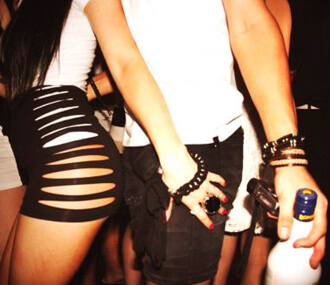 I remember my early clubbing days, at a time before I was doing penis enlargement exercises.
I used to have a pretty small flaccid penis size, and I was always very self-conscious when dancing close to a woman, wondering if she was feeling how small it was.
I used to try and keep my distance when dancing, or try and fidget around with my penis in order to get a semi-erection before I danced close to her… man, I must have looked weird.
The club/singles scene is hard enough to maneuver without needing an extra concern like whether or not a woman will be able to feel my penis.
Well truth is, some women can tell how big your penis is while dancing with them…
Years later, a little more experienced "in the game", and having done some natural penis enlargement already, I had a much bigger flaccid penis when I was hitting the clubs heavy (I'm a little more laid back now in my old age, but still go clubbing here and there).
I had a number of women dance with me, and turn around and tell me I had "a big dick"… those exact words, a number of times. So I guess some could estimate that the opposite was true when my penis was smaller?
I remember in my small flaccid penis days I would, the whole time while dancing, be thinking "does she think it's small?"
I don't know if it was my weird way of acting, or the actual lack of feeling anything there, that would oftentimes cause them to leave me after a song or two (or sometimes even before)… may have been all in my head, or may have actually been something there (or not there…).
Either way, the bigger flaccid penis days were (are) much more fun. Nothing to hold back, nothing to hide… rather, it's something to show off… something that makes you sexier, and seems to bring out the wild animal in women.
I'm not trying to be a bragging douche… because you can also have a big, hanging flaccid penis. Even if your flaccid penis size is not all that bad, it can be even bigger… you can be hung as hell. Slayin' women in the clubs.
Good thing about the natural penis enlargement exercises is not only do they increase flaccid size, but erect as well… length and girth. For more information, click here: Tired of having a small penis while dancing? Increase flaccid penis here…
Have a good one!!
-David Carreras aka Mr. Manpower
Mr. Manpower's Guide to
Overall Manhood Enhancement
The Ultimate Sex Guide for Men… "male potency without drugs"
–