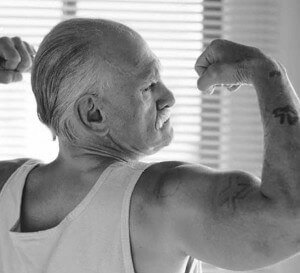 My exercises for stronger erections have helped many men.
Men in their 60's, 70's and a few in their 80's have been able to greatly improve their erection strength.  However, once they get up into the 80-year old range (and I've actually had one guy who was in his 90's who emailed me – talk about computer savvy and virile!), while my exercises do boost their erection quality, at times they may need a little extra medical "kick" to get it going.
But my goal is to allow men OF ALL AGES, from 20 year olds facing psychological ED to men in their 80's and 90's (and 100's if possible!), to get stronger erections without the need for medication.
I received an email from a man in his 80's named Richard, who would like to achieve stronger erections on command.
He had been performing simple kegels, but usually kegels on their just aren't strong enough…
David:
"I have been thinking about writing you about a problem I have. I've been doing kegels for a while now to strengthen my pc muscles. MY goal is to no longer use viagra. I am 81 and have used viagra for several years but I am unable to get an erection on demand. I have been doing kegels regularly, hold 4 min and 1 min release. I sometimes will do them for an hour take a break & do them for another hour. Would you please give me a schedule to help me achieve my goal."
-Richard
======
My reply:
Hello Richard:
Kegels/pc squeezes are an important part of getting a stronger erection naturally, but you need to make sure you are kegeling correctly. After your pc workout session, do you see the base of your penis thicker? If not, you may not be kegeling correctly.
Try and make sure that no neighboring muscles are jumping in, like your buttocks and abs muscles (put a hand on them, and make sure they are not tensing too much). They are going to jump in a little. It is impossible to completely stop them, but the idea is to relax them as possible, and concentrate on just the pc muscle tensing.
The pc muscle, without the help of these muscles, may feel very weak on it's own at first. This is good, that means you've found it. Work on it, and within that very same pc workout session, you will gain major strength on it.
Another thing you can do is take a Viagra, and do kegels, trying your best to raise your erection up and down.  Lay a towel over your erect penis, and lift and lower a number of times.  This is like adding weight to your workout.
Thing is, kegels are important for strengthening the internal "erection muscles", but there are things you can do to improve the actual external blood flow and strength of your penis.
Not sure if you're familiar with manual natural penis enlargement techniques, but certain exercises will strengthen the ligaments that connect the base of your penis to your body, and others will improve the circulation of the blood flow throughout your penis, and the overall strength of the penis shaft tissue (and it's ability to "store" blood flow).  I can help you with this.  This will help you to get a stronger erection by improving the external part as well.
Some other tips on how to get a stronger erection naturally:
Richard, if you can, join a gym and do some squats, leg press, and bench press, those are power workouts, good for testosterone. Not sure what kind of shape you are in, but you may want to work with someone to look over you at first, as these exercises require the proper form, and at 81, you don't want to make any mistakes on this. But go for it if you can; exercise for stronger erections! A little extra surge of that potent sex hormone may give you that extra boost you need.
Do a testicle massage under cold water, for a minute. I do mine at the end of my shower.  Great for improving health of your swimmers and boosting T levels.  Healthy swimmers want to "get out", and they need an erection to do so!  (Hey, I remember seeing a documentary on the Buena Vista Social Club… one the the men in the group was in his 90's and just had a kid a few years prior!).
Some cardio… start off walking, but if you can get a light jog in, that's even better. Get the circulation going. Once again, be very careful, you don't want injuries here!
Sleep well… no staying out partying all night, okay???
If you smoke, stop.  If you drink, don't over do it.
Eat a good amount of animal protein, mixed nuts, healthy fats (even unhealthy fats), and carbs.
Watch some porn with/without masturbating, and it will keep your mental arousal healthy.
Eat a lot of watermelon… great for improving circulation and erection quality.
Get some sunlight. Good for boosting testosterone levels. Especially on your back/chest, and if possible, sunrays directly to the testicles have been shown to boost T levels by as much as 300%!
Try these things, work out a regiment here, using your discretion.  For a little more advanced info on how to get stronger erections , check out my guide…
Let me know how it works out. I'd really love to hear some positive feedback from you on this!
Best regards,
-David Carreras aka Mr. Manpower
Mr. Manpower's Guide to
Overall Manhood Enhancement
www.mistermanpower.net