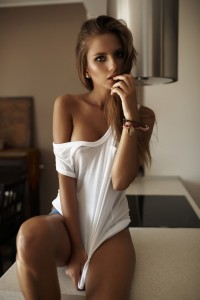 A woman's vagina is a beautiful thing: juicy, warm, inviting, swallowing you in….it's amazing.
The older I get, the more I appreciate this amazing creation of nature, and it's wonderful role in stimulating a man's penis until it climaxes. And the more I appreciate it, the more I try and express my appreciation.
There's no better feeling than licking a soft, wet mound through some silk panties.
Excuse me for being a freak, but the older I get, the more I enjoy interacting with the female genitalia. And the more I interact with the female genitalia, the more I learn about making women climax. This has become somewhat of an obsession to me.
The vagina itself is a pleasurable little oasis, but stimulating it till it's gushing and pulsating with orgasm is even better.
I'm in love with pussy, and I love to eat pussy. I love bathing her whole vulva with my tongue, and hitting a slow stroke from the bottom to the top while my lady squirms and pushes her clitoris into my tongue.
Oral sex is one of the easiest ways to give a woman multiple orgasms. There is no such thing as erectile dysfunction or premature ejaculation when it comes to oral sex. Your tongue works at your command, and works for as long as you'd like it to. If you can make a woman orgasm once, then you can make her do it twice, or even more. Just keep up with what worked for her first orgasm.
I consider myself a pretty observant person, and over the years I've collected quite an arsenal of very effective cunnilingus techniques. I've written down all I know regarding cunnilingus in one guide, called A Cunnilinguist's Guide to Bringing your Woman to Oral Ecstasy, click here for more info on this powerful guide to cunnilingus.
Have a good one!!
-David Carreras aka Mr. Manpower
Mr. Manpower's Guide to
Overall Manhood Enhancement
The Ultimate Sex Guide for Men… "male potency without drugs"
www.MisterManpower.net
–