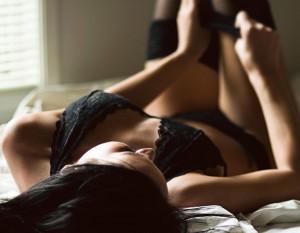 As men, most of us have a refractory period.
The refractory period is that crappy time period after we ejaculate where we lose our erection, and the majority, if not all, of our sex drive.
In other words, even if we could get hard again, the refractory period also keeps us from wanting to get hard again.
There are a number of ways to reduce the refractory period, and this includes erection strengthening exercises and libido enhancement/testosterone boosting activities.
The erection strengthening exercises ensure that you have the physical erectile strength to get it up quickly after you orgasm.
The libido enhancement activities will keep your testosterone, the male sex hormone, in high production, which will help keep your sex drive strong, so even after you ejaculate, you'll still have mental will to have sex again.
The refractory period is a nuisance… and as we get older, the refractory period gets stronger…
While an 18 year old may ejaculate, and then get an orgasm in another 10 minutes, it may take a 30 year old an hour or more… and as we get older, the refractory period gets longer and longer… up to days in some cases.
So finding ways to cut down the refractory period is quite important for us men… if we want to continue being potent and satisfying lovers in bed.
How to Completely Get Rid Of The Refractory Period; Eliminate Refractory Period Altogether
While the above methods work to cut down the amount of time your refractory period laster, there is a way to get rid of the refractory period altogether… eliminating its negative effect on your sexual performance.
The male multiple orgasm technique is a powerful, yet not very well known technique, discovered by the Taoists… or at least most written about by the Taoists (may have been discovered before… there have been a lot of "freaky" civilizations since the beginning of time!).
You see, ejaculation and orgasm are two events, but they happen at the same time (well actually within milliseconds of each other).
With the male multiple orgasm technique, a well strengthened pc muscle holds back ejaculation during orgasm, allowing you to have an orgasm, but without the ejaculation. This is how you eliminate refractory period…
Ejaculation, not orgasm, is what gives you a refractory period. Eliminate ejaculation, and you get rid of your refractory period completely… maintaining your strong erection, and mental want to continue…
This powerful technique will allow you to maintain a complete erection for as long as you want, even after multiple orgasms, and you will also maintain your libido/sex drive the whole time.
For more information on how to get rid of your refractory period altogether with male multiple orgasms, check this out…
Have a good one!
-David Carreras aka Mr. Manpower
Mr. Manpower's Guide to
Overall Manhood Enhancement
"the ultimate sex guide for men… male potency without drugs"
–