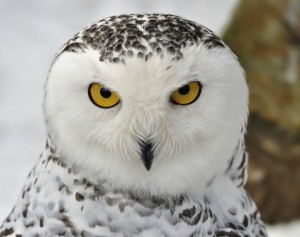 Living with a small penis is not the best case scenario for a human being, although it can be much worse if you were born an owl.
The ladies can be extra demanding in this day and age, but none are more demanding than the female Snowy Owl from Poland, who killed her poor boyfriend because of his small penis.
Now, how do we know it was because of his small penis? More on that later…
The bird was rightfully given the nickname "Black Widow", due to the fact that she left her suitor half-eaten after a date gone horribly wrong… shocking the vets at her Polish animal shelter.
Her keepers found her to be especially moody lately, so they decided to "hook her up" with a male owl. But just two days after importing and introducing her German "stud", he was found half-devoured and dead in the cage…
The shelter spokesperson said for the first two days everything went well, but then they were "horrified" when they discovered what she had done to him.
At first they couldn't make sense of it, but decided to bring it to a vet pathologist, who discovered that the owl's testicles and genitals were underdeveloped… in other words, he said the male owl wasn't a "suitable lover", and "after failing to perform she killed him, probably out of frustration".
They've tried hooking her up again, but other sources of Snowy Owl's have been hesitant to supply their poor male birds, not knowing if they'll meet the Black Widow's standards…
Luckily, as humans, living with a small penis is not as bad, and not a life or death situation.
Many women don't care much about penis size, and are more bothered when a man mopes and whines, or has strange hang-ups over his penis size. Sure, some women are size queens, or demand a larger penis size, but many women just don't care, as long as everything else is okay.
Think about us… how picky we are with women. If she's fat, if she has bad skin, if she's flat-chested, or has no butt… we're just as picky. So can't get mad at them.
And as a man, you can just as likely get disqualified for any other thing, for instance, you may not be tall enough, dress the way she likes, have the type of face that attracts her, etc… so no reason to fret.
If you pass all of her other tests, and are the perfect type for her, and you're less than average in size, most women will be fine with it. Just work on learning how to make women orgasm. Even with a small penis, you can make a woman orgasm.
Shoot, even with a BIG penis, a man needs to know how to penetrate to get a woman off.
She needs clitoral stimulation to have an orgasm, and rubbing hard against her clit with the part of your pelvis right above the base of your penis works… rub hard on the in-stroke, as well as the out-stroke, and a man with a 5 inch penis can get a girl off harder, and quicker, than a man with a 9 incher, if the man with the 9 incher has no idea what he's doing (and 99% of men don't).
You can also add some length and girth to your penis. Natural penis enlargement exercises work. They've worked for me, and they've worked for thousands of other men. I can show you how to get results quickly and more importantly, safely, but don't expect a miracle. An extra inch in erect length, some more girth, and a bigger flaccid size are quite common. Anything larger is not as common, but is possible.
For more info on how to make your penis bigger, click here: Natural Penis Enlargement That Really Works
Any questions or comments, feel free to leave below!
-David Carreras aka Mr. Manpower
Mr. Manpower's Guide to
Overall Manhood Enhancement
The Ultimate Sex Guide for Men… "male potency without drugs"
–