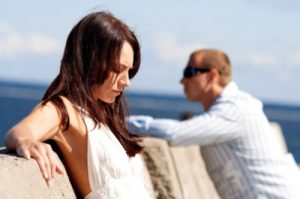 Erectile issues are common in all men – of all ages.
And the vast majority of reasons for this ED is psychological, while physical components may play a bit of role as the man gets older. This can include decreases in testosterone level and poorer cardiovascular function. Couple this with anxiety, such as the kind a man may face when having sex with a new partner after divorce, and the ED may seem even more daunting.
However, in the end, the "wall" blocking you from getting hard, regardless of age, may be paper thin, and easier to break through than you think.
I received the email below today from a man facing ED after divorce:
"Hi David,
I am 43 and have never had problems with erections, staying hard, getting hard, lasting, etc… However i started going through a divorce a little over a year ago so there has not been much sex until recently when I started dating. I have just noticed things are a little off as far as getting erections, staying hard or losing it say when I am going down on a woman. I have a ton of stress in my life right now, I started smoking again although I am in good physical condition and workout and i think there is a bit of performance anxiety with being with new woman after being with the same one for 20 years. Even masturbating I don't always get fully erect. Couple other things I notice at various times so something is off and just thinking the info I am looking for might help as far the physical part goes.
Maybe there is some don't use it you lose it also. Who knows. Just don't want to be in the position of not being able to perform as I used to with a woman that I am involved with and its gotten in my head a little."
-John M.
——————————
How to Get Hard Again After a Divorce
Hey John,
Sorry to hear about the divorce, but hey, it happens all the time (especially in this day and age). And happy to hear you got back on the horse, and have been able to spark something up in that department again.
Most causes of ED after divorce – and otherwise – have a strong mental component. But even though the mind and all sorts of emotions may be getting in the way of your arousal, without a doubt, there are physical causes playing a role in your case.
Smoking… at your age, not even because of the sex, can lead to COPD in the near future, lung cancer, any number of irreversible, life changing issues. Cut out the cigarettes.
And yeah, in this case, you want to cut it because cigarettes hurt your erections.  It may have served a purpose as crutch initially, or something to do when feeling empty (I used to smoke, especially in stressful times), but it's time to let that go.
Exercise in general is extremely beneficial for your mental well-being, as well as your erectile function. If you're not currently doing exercise, with a combination of cardio and weight training (which also helps with testosterone production), then you should start that as well.
Lastly, you may be feeling that this is the age ED hits men… well know this, if your physical condition is decent, then you are way too young to have to worry about having erection issues. However, this fear of the possibility, along with other negative emotions such as guilt, worry and anxiety, may all be kicking in and preventing you from getting an erection.
Take your time… have fun… and know that you don't have to tell your erection to get hard. It knows what to do. Just get as strongly aroused as possible (mentally), and the signal will be sent to your erection. If at ease (at least as much as possible), the arousal should take over and erection should happen.
Also, know that if you ever wake up with an erection, whether in the middle of the night or in the morning, than your erection works perfectly… doesn't have to be every night, just once in a while.
For more advanced techniques for overcoming a mental block before sex as well as more natural methods to physically strengthen your erections so you have harder, longer-lasting erections, see here…
Hope to be of some help, and any questions, shoot 'em over! [email protected]
-David Carreras aka Mr. Manpower
Mr. Manpower's Guide to
Overall Manhood Enhancement
The Ultimate Sex Guide for Men… "male potency without drugs"
–