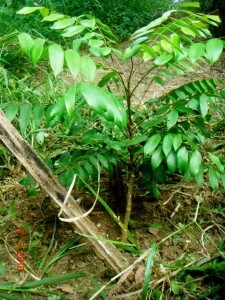 Tongkat Ali is a flowering plant native to Malaysia… it's been used as a natural way to increase male libido in Malaysia for centuries, and in recent times has been used for this same purpose in the US. Tongkat Ali is also known as Malaysian Ginseng.
It is said to increase male libido by naturally increasing production of testosterone. There have been a few studies where animals have been shown to be more sexually active while taking the herb, compared to placebos who took nothing.
Study Shows Tongkat Ali Increases Strength And Muscle Mass
An experiment was also published in the British Journal of Sports Medicine where subjects who were given Tongkat Ali had greater muscle strength and size compared to the placebos, demonstrating the effect it most likely has on testosterone production.
Personal Experience With Tongkat Ali – Stronger Sex Drive, But Slight Headache
A good friend of mine has recently started taking Tongkat to increase his libido. Although I have a very high sex drive, and high testosterone levels (I'm assuming, based on my high sex drive and strength in the gym), I was curious about this herb, so I asked my friend to let me have about a week's supply.
After taking the Tongkat Ali for a couple of days, I felt a markedly high urge to have sex. I felt the urge to ejaculate at least once a day, but most of the days I felt like ejaculating more than that. However, accompanied by the increase in libido, I had a minor persisting headache for a couple of days, and I was also very irritable.
When it comes to herbs to increase male libido, Tongkat Ali is definitely one of them… the headaches may have been avoided by taking a lower dose.
Although it was fun, I won't be continuing to take it. My sex drive is high as is, and I don't want to have to purchase something extra on a regular basis. Thanks to a number of exercises and activities to naturally increase my testosterone production, I have a very high libido / sex drive. For more info on the things I do to boost my T levels, click here: Natural Libido Enhancement/Natural Ways to Increase Male Libido
Have a good one!!
-David Carreras aka Mr. Manpower
Mr. Manpower's Guide to
Overall Manhood Enhancement
www.mistermanpower.net
–