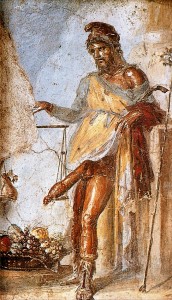 If you'd like to know how to make your penis bigger without pills, you have yet another option.
A new shot, called the Priapus Shot (named after the Greek god of fertility, who was known to have a massive member) is claiming to increase penis size using your body's own "platelet-enriched blood plasma".
The blood is drawn and then processed in a "specialized blood platelet machine". The doctor injects the concoction directly into your penis, and the results are apparently noticeable immediately, and then continue to improve over the next few weeks.
The platelet-rich plasma "encourages and stimulates the body's natural healing and restoration process". On the site, it claims men can make anywhere from .5 to 1 inch in length gains, and up to an inch more in girth.
Always on the lookout for ways to make my penis bigger without pills, this looks like an interesting option. Thanks to natural penis enlargement techniques, I've been able to add a little over 1.5 inches in length, so I'm happy, but if I could get a quick "steroid boost" to my penis size, that'd be quite interesting.
Honestly, I'd probably never get around to it (imagine talking to a cute receptionist… "I'm here for my penis enlargement shot"), but my curiosity was piqued.
So I continued hunting for info, and I came across feedback from another man who took the Priapus shot. 7 weeks after the shot, he claimed to have gained a quarter inch more in length, and half an inch in extra girth. Not the same gains claimed on the website, but I was quite impressed at the girth gains…
But…
Then he goes on to say that he didn't measure, it just LOOKED larger… which makes no sense, because he provided exact measurements at first… and he said the Priapus shot cost $1,800…
Further research showed me other men who had tried similar "chemical" penis enlargement, without much luck, and came to the conclusion that it was "quackery". Also, if there are any effects, they are only temporary.
So does the Priapus shot ABSOLUTELY not work? I can't say for sure. Maybe it works better for some, than others. Overall, the effects on the quality of erections, and the girth gains, make it seem like something interesting if I had the money to blow…
And the Priapus shot appears to be safe without any claims of injury or problems seen anywhere…
But when it comes to how to make your penis bigger naturally, manual penis enlargement techniques win first place for me. Cheaper, can be done in private, and don't cost me a thing.
Followed up by weight hangers for length… or if you have money, and you're going to go the surgical route, go to Germany and get a phalloplasty. They're the leaders in penile enlargement surgery. And that's permanent.
But if you're curious, and you have a couple of G's to blow (or really need girth gains), go ahead and take a shot at Priapus.
-David Carreras aka Mr. Manpower
Mr. Manpower's Guide to
Overall Manhood Enhancement
The Ultimate Sex Guide for Men… "male potency without drugs"
Related posts:
Science Supporting Natural Penis Enlargement – Studies, etc.