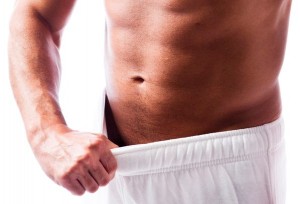 Just like in weight training, overtraining in natural penis enlargement is actually a bad thing, and can be detrimental to your progress.
One sign that you may be overtraining your penis is a lower erection quality. Sometimes I go overboard on my routine, and the following day my penis may take a bit longer to become erect. It may seem scary, but my erections always return to full strength after a day of rest.
One thing to stay clear of on your natural penis enlargement routine is the dorsal nerve running down the middle of the top of the shaft. You want to avoid pressure there. Nerves in the penis, just like nerves in any other part of the peripheral nervous system, can recover, but it takes a long time. You want to avoid this at all costs.
Another sign that you are overtraining your penis is a smaller flaccid penis after working out. If your flaccid penis looks a bit shriveled afterwards, or not really a healthy hang, you are most likely overtraining.
I've learned my routine from men who've increased their penis by by SIGNIFICANT size.
I've also very closely studied any possible injuries. Although there aren't many reported (nor personally experienced), and have never heard of anything serious or permanent… precaution should be taken.
This is our penis we are talking about!
Since seriously dedicating to natural penis enlargement, I've increased the erect length of my penis by a little more than an inch and a half, increased my girth, as well as the size of my flaccid penis. And I am still growing to this day. I know it sounds like bullshit, but believe me, it works, and it's actually good conditioning for your penis, contrary to what you may assume.
I know a man in his late 40's, who has high-blood pressure, as well as nerve damage from diabetes, and he says he has the erections he used to have in his twenties. Thanks to the improved blood flow, you will experience stronger erections than you've ever seen in your life.
For more information on how to make your penis bigger (without injuries or overtraining!), check this out…
For photo proof that you CAN make your penis bigger, see here…
Have a good one!
-David Carreras aka Mr. Manpower
Mr. Manpower's Guide to
Overall Manhood Enhancement
david@mistermanpower.net
–