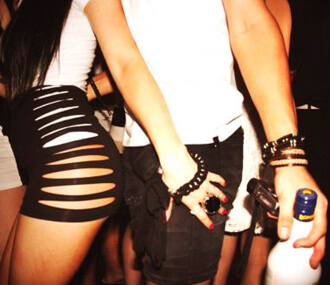 This may be a weird preoccupation of mine, but I've always been interested in how to increase my flaccid penis size.
During puberty, I had always hoped that my flaccid penis would get larger…
My erect size continued to grow, on an average course, but when I was soft, my flaccid penis wasn't growing at all…
I thought there was possibly something wrong with me.
But I thought about it… what really matters is my erect size, right? I mean, if someone asks me if I have a small penis, I can honestly say no… I'm average.
But deep down, I felt differently.
Because of my small flaccid penis size, and small bulge, I felt deep down that my penis was small.
Women, when they would touch it before it was "ready", would without a doubt assume that I had a small penis. And I actually had a couple of embarrassing situations where this did happen, and women commented on it.
One time in middle school, and girl leaned over and placed her hand in my crotch area, in a flirtatious attempt to "check out the goods", and pulled back with a face of shock, hand over her face, and went on to tell other girls that I "had no penis".
Yes, you say this is middle school… but from middle school to adulthood, I did not increase flaccid penis size by very much. When around 24 I had another girl I dated, who commented that I had small hands (before we had sex), and I told her not to let it fool her… that I had a big penis. Stupid me… didn't I know I was going to have to show and prove at some point in time?
So exactly what could of happened, happened… we had sex. And in my post-ejaculation, shriveled state, she grabbed my flaccid penis and commented under her breath… "small hands, small penis…"…
This stomped my self-esteem into non-existence.
And as to bulge size, most women don't look… but some do.
I never really noticed this until I increased my flaccid size with these exercises, that some women do look.
Since I've increased my bulge size, I've noticed women often take a quick glance down there. Hello! My eye are up here!
I've also heard conversations where women discussed a man's package, or lack thereof. Two friends of my lady were watching a music awards, when one of them said that one of the singers performing was good looking, but it looked like he "had no penis"… and the other girl agreed.
So I figure they possibly do take this into consideration.
Studies have also shown that when shown models, body shapes with longer flaccid penis sizes were considered more attractive to women, along with other attributes (height and shoulder width).
Good news is, we wear pants most the time, so aren't constantly under scrutiny. And most pants cover up pretty much what's going on down there. If you're not exactly hung, women can't tell (unless you wear tight pants, or clothes that show more "shape"), and most women don't have this area under a magnifying glass anyway.
But if you are looking to get hung, I've learned quite a bit about natural penis enlargement exercises that concentrate mainly on flaccid increases. I've also learned about how to increase erect length and girth, but the flaccid growth department is one that has always interested me.
If you want to know how to increase flaccid size with natural penis enlargement exercises, click here…
Have a good one!!
-David Carreras aka Mr. Manpower
Mr. Manpower's Guide to
Overall Manhood Enhancement
david@mistermanpower.net
–