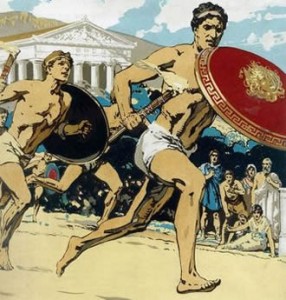 "Sol est remediorum maximum"—the sun is the best remedy.
These are words of the ancient Roman writer Pliny.
The Greeks Herodotus and Antyllos wrote about how "the sun feeds muscles"… and they were correct… sunlight increases the body's production of luteinizing hormone, which in turn boosts testosterone production.
They may not have known the science behind it, but they understood that sunlight increased the size and strength of their muscles, so not only would they train in the sunlight, but they'd train completely in the nude to increase the exposure (in more ways than one).
Shoot, Arnold Schwarzenegger knew it as well in his work-out classic "Pumping Iron"… every few sets he'd step outside and absorb some sunrays.
As you probably know, increasing testosterone has numerous benefits, including an increase in male libido, harder erections, better ability to gain muscle mass, better sleep and more…
Quick Natural Injection Of Testosterone And All Natural Libido Enhancer
Did you know that exposure from sunlight directly to your testicles can increase your testosterone production by as much as 3 times?
As a matter of fact, I just came inside from getting some sunlight on my testicles a few minutes ago. You're going to feel like a weirdo doing it, but when that sun bakes your testosterone makers… you're going to wonder why you've never tried it before. It's weird, but it just feels so right. And the immediate boost in libido you feel afterwards is great.
Unless you have a nude beach around, and are completely shameless (like those old dudes with the little peckers sticking out that just don't give a shit), this is tough to accomplish, but can be done. I've figured out a way to do it, in order to limit the chance of being seen. You may need to think outside the box.
Personally, I sit in a chair in my backyard, and keep all my clothes on. I get a book or some other alibi for sitting out there alone in the sun. I wear shorts that have a zipper, so I can unzip, pull my testicles out, and tuck my penis up and in my shorts (or to the side, but inside the shorts), so the only thing out are my testicles. Make sure to sit in a position where you can see those around, and limit lines of site to your nutsack…
I feel weird just typing this…
Hey, it's scientifically proven, though!. I just sat out there for a minute or two, not too long.
For a less risky form of boosting testosterone and getting an increase in male libido, step outside and get some sunlight on your chest and back…. the effect is a 2X increase, but less chance of somebody seeing your gonads.
Hey, at least you're not WRESTLING in the nude like the ancient greeks used to!!
I've put together a guide with 22 scientifically proven guidelines and tips you can follow to naturally boost testosterone production, therefore bringing with it the sexual and mental benefits. For more on this guide, click here: How to Increase Male Libido Naturally
Have a good one!!
-David Carreras aka Mr. Manpower
Mr. Manpower's Guide to
Overall Manhood Enhancement
The Ultimate Sex Guide for Men… "male potency without drugs"
–