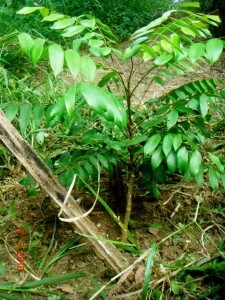 Studies have shown that Tongkat Ali increases testosterone production, as well as increases lean body mass.
Ingesting Tongkat Ali root is an ancient remedy for improving libido, and offers many other interesting benefits to a man, but now we have a new one:
Peace Of Mind
Testosterone and peace of mind are usually antonyms… when a man has higher than average testosterone levels, this can increase his aggression, which can increase his stress levels and reduce sleep quality…
However, a study has shown the opposite: Tongkat Ali not only increases testosterone production, but ALSO reduces stress and improves overall mental well-being!
Tongkat Ali, also known as the Malaysian Ginseng, is a medicinal plant with roots extending deep into the Indonesian – Malaysian culture. It is a "miracle plant" for them, with MANY health benefits, including anti-aging, increased libido, weight loss, better energy and sports performance… and now, improved mind-state as well…
Tongkat Ali, A Natural Psychological Drug?
At the beginning of the study, 63 subjects (32 men and 31 women) were assessed for their mind state and hormone levels.
They were then broken up into two groups, with one group being administered Tongkat Ali root, and the other a placebo, for 4 weeks.
A SIGNIFICANT improvement was found in the mind-state of the group that was administered the Tongkat Ali, compared to the placebo, including reduced:
Tension (-11%)
Anger (-12%)
Confusion (-15%)
There was also a major improvement in the treated groups hormone profile, including a reduction in the stress hormone, Cortisol, by by 16% and an increase in testosterone production by 37%!
Tongkat Ali can truly be a miracle "drug"! It looks like it can protect you from the effects of daily stress accumulation, all the while boosting your masculine properties… I don't like taking any outside source to improve my mind-state and sexual well-being, but may go ahead and experiment myself with some Tongkat Ali after seeing results like this! I'm honestly very curious!
Dosage
While more research should be done on your part, as to the dosage, a cursory search shows me that Tongkat Ali should be taken in cycles, with definite break days (for instance, 5 days on, 2 days off). I would experiment with lower dosages at first, and if you adjust well to it (mind-state is okay, sleeping well, no strange physical symptoms), then maybe consider slightly upping the dosage. It is also recommended that you make sure you take Tongkat Ali ROOT, and not just ground up Tongkat Ali, as it won't be nearly as effective.
Other Natural Ways To Improve Testosterone Production
As mentioned above, I never liked the idea of taking supplements, due to the fact that I feel like I'm "cheating" (although this study's findings were very persuasive!), so have found a number of activities and guidelines to boost testosterone production naturally. This increase in T levels improves libido, erection quality, and mind-state as well.
For instance, did you know that getting some sunlight directly on your testicles can DOUBLE your testosterone production naturally? Or did you know that drinking milk is an essential part of keeping your T levels healthy (low Vitamin D is associated with low testosterone levels)? Excess cardio can KILL your testosterone? For more information on these testosterone (and libido!) boosting guidelines, click here…
Have a good one!!
-David Carreras aka Mr. Manpower
Mr. Manpower's Guide to
Overall Manhood Enhancement
www.mistermanpower.net
–
Related Posts: