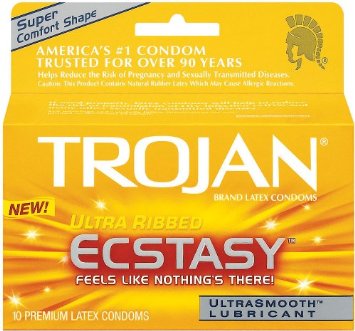 I have been real loyal to the Trojan brand lately… great stuff…
Review of Trojan Ecstasy Condoms
I personally hate condoms, but in this day and age, they are a necessity…especially if you are not ready to have kids, or if you don't know your partners track record.
I went to CVS with my lady to get these condoms, and they were locked away in a glass case.  I had to press some button that announced to the store that I needed help in the family planning section.  It was pretty embarrassing, but funny at the same time.  Nobody came (customer service in Miami is generally terrible), so I continued pressing the button over and over…
Finally some kind came around (who probably thought I was extremely horny or something, due to my urgency) and gave me my condoms, and I was off to the apartment.  First thing I noticed was that the condom wrapper was HUGE.  I use Trojan Magnums, and this package looked way bigger…not sure why though, because the condom was normal sized.
The Trojan Ecstasy Condom has a strange shape.  It sort of balloons outwards towards the head, and it is ribbed all over.  It is very well lubricated…almost slimy.
The sex with this condom is great, though!
It doesn't have that muffling, choking-your-dick kind of feeling that regular condoms have.  The entire time, from the beginning of intercourse to orgasm was very smooth and pleasurable.  Just like it's advertised, it really feels like nothing's there.
Better than any other condom I've used.
My grade for the Trojan Ecstasy Condom: A++
=======================
I'm always looking for new ways and products to spice up my sex life.  I've researched for several years on different topics to enhance my own sexual performance, from natural penis enlargement, to how to last longer in the sack, to oral sex techniques, to male multiple orgasms, to how to make a woman have multiple orgasms, to sex toys and more.  For more info on how to last longer, increase erection strength, enlarge your penis and more, click here…
Have a good one!
-David Carreras aka Mr. Manpower
Mr. Manpower's Guide to
Overall Manhood Enhancement
The ultimate sex guide for men… "male potency without drugs"
–