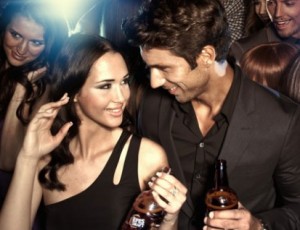 A thicker penis is more important to women than a longer penis, a new University of California study shows… especially when it comes to one night stands.
The whole goal of a one-night stand is good sex, rather than a relationship, where other attributes can have more importance, such as compatibility, humor, intelligence, etc… In this study, 41 women viewed and handled 3D models of penises, ranging from 4 inches in length to 8.5 inches in length, and 2.5 inch circumference girth to 7 inch circumference girth.
They were asked to choose which penis size they'd choose for a one-night stand, and which they'd choose for a long-term relationship.
Although preferred length was the same for both groups (6.5 inches), preferred girth for one night stands was larger than relationships (no exact number given).
As mentioned, good sex is the goal of most flings, so women would choose a better tool for the job. A thicker penis better stimulates the clitoris, which is located right at the top of where the two inner vaginal lips meet, providing a better chance for vaginal orgasm (clitoral stimulation is vital to providing a vaginal orgasm during penetration). Without even trying, a thicker penis better stimulates the clit.
Other studies have different, but not mutually exclusive, results. In another study concerning the length of the penis, out of 300 women, 60% said that length made no difference to them, but those that frequently experienced vaginal orgasms preferred longer penises. This could be due to the higher probability of a longer penis hitting the "cul-de-sac", or backwall of the vagina, another way for women to reach vaginal orgasm.
This study, however, didn't take into effect girth… but does show that length is also important when it comes to bring about the female orgasm. What these studies show is that a bigger penis gets the job done easier.
So what do you do if you have a small penis? Just suffer in silence?
No, there are penetration techniques that can provide vaginal orgasms during intercourse, such as the coital alignment technique (where you "grind" the clitoris with an up and down motion), or by rubbing hard against the clit with your pelvis while you stroke in and out.
Or you can make your penis bigger with natural penis enlargement exercises. I've managed to add 1.5 inches to the length of my penis, and somewhere close to an extra inch in girth. And giving women vaginal orgasms has been a breeze since.
As to the natural penis enlargement exercises, take note though: it's generally easier to add length than girth, but even half an inch (in circumference) of extra girth makes a massive difference… and some men DO make major gains in girth, especially if you concentrate on the penis enlargement exercises meant for girth gains. Reaching an extra inch of girth is not uncommon.
For more information on how to make your penis bigger with natural penis enlargement exercises, click here: Natural Penis Enlargement For Easier Vaginal Orgasms
Have a good one!!!
-David Carreras aka Mr. Manpower
Mr. Manpower's Guide to
Overall Manhood Enhancement
The Ultimate Sex Guide for Men… "male potency without drugs"
–