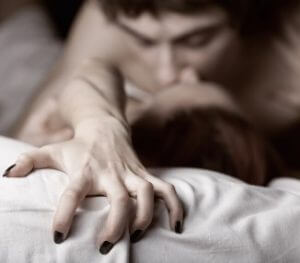 The female orgasm is a complex mystery. How to make a woman orgasm in missionary position is even more complex.. without the proper knowledge.
It's almost like an unsolvable puzzle to the vast majority of men.  This is why so many women fake orgasms… they are just being good sports, knowing their man is never going to get them there.
I had one girl who was brutally honest with me, back in the beginning of my sex life.  She would tell me honestly that I didn't make her orgasm.  No fake moaning, no acting like she just had an orgasm.  Just "no, I didn't finish" whenever I'd ask.
I thought in order to make a woman orgasm in missionary position you just had to "bang her" really hard, and for a long time — like they do in porn.  I thought the reason she didn't orgasm was because my penis was too small, or I didn't last long enough.
If I would have had a bigger penis and more stamina it would have helped a little bit, but would have been no guarantee that she'd have an orgasm.
As a wise business man once told me "work smarter, not harder".
With the same penis size I had, and the same amount of strokes, I could have given her a powerful orgasm… I just wasn't penetrating right.  It's not like we see it in porno…
Making a woman orgasm in the missionary position is not about hard in-and-out banging.  It's more of a rough rub…
================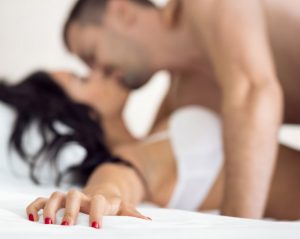 The clit is what is responsible for the female orgasm — missionary position or otherwise.  People talk about the g-spot like it's a whole different part of the vagina, but in reality it's the back end of the "clitoral cluster", and can only be "accessed" from the inside.  The best penetration techniques stimulate both at the same time.
Most women can get themselves off when riding you on top.  If you watch them, they don't bounce up and down to get off.  They "rub" back and forth on your pelvis, while your penis prods their internal hot spots.  This stimulates the clitoris from the inside and out.
But what if you want to take control? What if you want to be the creator of her orgasm, and not her?  It's harder to replicate the motion she needs to have an orgasm when you're on top, but a couple of positions can do it.  And yesterday, using the fundamentals of penetration orgasm, along with some detective skills, I came up with a new one.
Listening to the signs helped me create… the powerful, Back and Down Stroke®.
In order to make a woman orgasm in the missionary position, you need to rub hard against her clit with the part of your pelvis RIGHT above your penis.  Normally I put the most pressure on the in-stroke, and then rub on the way out, and repeat with the hard in-stroke.
However, yesterday, when I was on top doing my stroke (which generally still takes a little while to get her off… longer than I'd like at least), she put her hands on my shoulders, and started pushing me down and hard, on the OUT-STROKE.  At first it was bothering the shit out of me, due to the fact that it was uncomfortable, and I was about to tell her to stop, but then my inner Sherlock Holmes kicked in… "maybe she was telling me something…"
And truth be told, if I would have obliviously told her to stop, she just would have stopped, and that would have been the end of it.
So I began to replicate the stroke she "told" me to do, but with more strength and vigor.  Remember, it's still rubbing hard against the clit, but it's almost reverse… the strength is on the out-stroke.  And it's not just going backwards, but down as well – with force.  And after just another minute or so of gyrating and vibration, she let out an excruciatingly pleasurable moan, and then she lay there… body exhausted and fully satisfied.
"Oh my God, that was so good" she said, laying there… and then she asked ME if I finished, too.
Nope.  Far from it.
So I turned her around, and went to town doggy style to get my orgasm…
There you have it, the patented Back and Down Stroke.  Now run and tell your family and friends!
Have a good one,
-David Carreras aka Mr. Manpower
Mr. Manpower's Guide to
Overall Manhood Enhancement
The Ultimate Sex Guide for Men… "male potency without drugs"
–