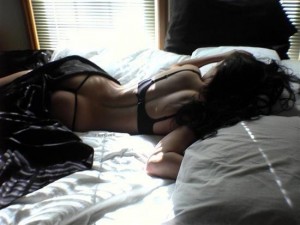 I just recently heard that 26% of men under 40 have erectile dysfunction…
Too many electronics around us possibly?  Too much in-house entertainment, that young men aren't out being men anymore, or getting sufficient sunlight and exercise?
Who knows…
One thing I do know is that mental block erectile dysfunction IS very common among young men.
Shoot, it happened to me a few times when I was younger, happened to many other friends I've grown up with as well.
The older you get, and speak to your friends openly about sex, without shame, the more you'll see that almost EVERY MAN has experienced mental block erectile dysfunction, AT LEAST at some point in his life, if not many times, and for long periods of time.
And while mental block ED can be defeated, it can be the cause of many difficult situations and consequences…
In my case, here are some embarrassing and difficult situations I faced thanks to psychological impotence when I was younger:
A gas stations attendant who laughed at me, and then told me in front of other customers that I shouldn't need ginseng and those stud sex pills at my age
An incredibly fine girl never give me another chance after I failed to get hard with her the first (and only) time we had sex
A drunken girl I took home from a club start insulting me and calling me names, because I couldn't get it up with her
A very hot, big tittie girl gave me a number of chances, but I couldn't get an erection, time after time… and the ensuing confidence drop and lack of respect from this girl
If you have mental ED, no worries, first off, you will overcome it. I will help you there.
But I just want you to know that the following feelings are common with erection problems as well:
Concern and embarrassment over visiting a doctor with complaints of ED
Going to a doctor at 18, 19, shoot, AT ANY AGE, is embarrassing, if you're there for help with erectile dysfunction.
Imagine the hot 21 year old nurse… "and what is the purpose of today's visit?"
"Um… I think I have erectile dysfunction…"
I would imagine this could be quite an embarrassing experience. That's what always kept me away from the doctor when I had erection issues.
Seeing the doctor probably wouldn't be any better, either:
"Erectile dysfunction? At your age?" 
Which leads to the next situation…
The doctor not taking you seriously and not prescribing you anything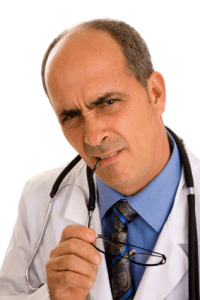 I've heard from many young men with mental block ED, who went to the doctor, and the doctor did not take their complaints seriously.
"Just be confident, you're too young for this".
Instead of a prescription for Viagra, a doctor will most likely tell a young man with ED to just try his best, and be confident… and while not in-depth enough advice, count your blessings you didn't get a prescription, because you don't want to become mentally dependent on Viagra.
Just learn how to beat your problem mentally, and you'll be a better man because of it.
Avoiding sex or new relationships because of your mental block erectile dysfunction
I used to avoid situations that would lead to sex, due to the fact that I didn't have much confidence in my erection (or in the bedroom, in general).
I was also lucky enough to have terrible premature ejaculation, and no idea how to make a woman orgasm.
I had a long record of unsatisfied women… and each new loss in my record, made it harder and harder to be open to having sex.
I've received many emails from men who feel they're "just not ready yet"… that they've experienced too many psychological issues during sex in the past.
Some advice?
You'll never be 100% "ready yet" for any relationship, or sexual encounter. Jump in, and learn where you can. If you fail, you fail. Who gives a shit?
You'll get another chance, another girl… you're not going to die (not from this at least).
Don't let opportunities pass in life. Go out swinging…
Staying in a bad relationship, because at least you can get hard with her…
Another similar situation is staying with a girl, even though it's a bad or unsatisfying relationship, because you have no confidence in your erection, and rather stick to what you know… instead of the wild unknown out there.
Like I said… you just have to dive into these things head first… and things will work out in the end.
Don't stay with a bee-yotch if you're not happy. Good things take risks in most cases.
I once had a Cuban girlfriend who was a major bitch… and each time I tried to leave her, and have sex with someone else, I couldn't get an erection… and I would run back to her with my tail between my legs… I was positive her mom had put some brujeria on me, and was never going to let me leave her daughter's life…
Luckily it wasn't true…
Ruining a relationship due to this psychological impotence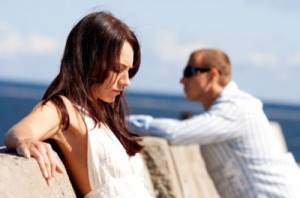 Many men worry that they're girlfriend or wife will leave them if they cannot get an erection and perform.
Sex IS VERY important to a relationship. It's true. And relationships HAVE been broken up due to bad sex.
But the good news is, she's already in a relationship with you. She loves more than just the sex (she loves you).
She will give you more chances and breathing room with this issue than women you may have a one-night stand with, for instance, or just a brief fling.
Take this pressure off your back.
You don't need extra pressure on your erection (by the way putting pressure on your erection to perform? Bad idea… let it do what it's going to do… it has a "problem with authority". You can't "mentally will" an erection to happen… just send it a strong enough signal).
Women insulting you because you cannot get an erection
If you're lucky, you'll have one of this women who's real difficult, and wants to turn her self-doubt, into an attack on you…
She may ask if you're gay, she may say "what"s wrong with you?"… I had a woman one time call me a SCALLYWAG… which I always associated with pirates… but it didn't feel good, especially at the moment.
Just have a thick skin, and know this… if they're willing to say shit like this to you, that's a sign they're not a keeper anyway.
Good riddance.
==========
Listen, if you are having issues getting an erection before sex, and want to really do something to improve your sexual situation, then this guide will help you achieve harder, longer lasting erections on command. It also includes in-depth techniques to overcoming mental block erectile dysfunction.
Do it because you want to fix this issue once and for all, and without medication.
Any questions, feel free to comment below, or shoot me an email! david@mistermanpower.net
Have a good one!!
-David Carreras aka Mr. Manpower
Mr. Manpower's Guide to
Overall Manhood Enhancement
The Ultimate Sex Guide for Men… "male potency without drugs"
www.MisterManpower.net
–
Related posts:
Overcome Erectile Dysfunction By Avoiding Cell Phone Waves!!