Being someone very interested in keeping my testosterone levels high, of done plenty of research over the years on how to increase my T levels.
One piece of advice that I continually see, (and have touted myself!), is that broccoli increases testosterone levels.
The Supposed Way Broccoli Boosts T Levels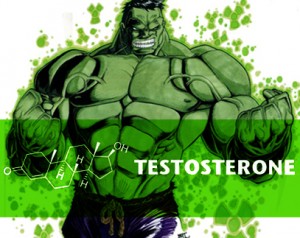 Not quite sure who was the mad scientist behind this one, but the idea is that Broccoli contains Indole 3 carbinols, who do the favor of escorting those sassy estrogen hormones out of our body.
One study has shown that urinary excretions contained a large amount of estrogen in both men and women (meaning they were peeing out excess estrogen), after ingesting indole 3's either in the form of cabbage or broccoli.
The theory continues…
Without the excess estrogen in the body, testosterone is said to be able to roam more freely…
I mean, the basic idea is cool, and relatable… when your lady leaves the house, and you have the house to yourself, you tend to be king of the castle, to a stronger extent… or like when your lady leaves you alone with your friends, and you get to be your full, bad self.
Sadly, this doesn't happen in the world of hormones…
As was expected
Two Studies Show That Indole 3's Don't Increase Testosterone
In the first study, rats were given large doses of indole 3's, in order to see if it's effects on hormones.
While 12 months of Indole 3 ingestion did show possible "protective effects against age-related tissue damage", it did not show any positive influence on testosterone in male rats, nor did it show an influence of any kind in estrogen in the females.
But you might say, yeah… those are rats. Not humans…
Well this study showed HUMAN men who took a supplement packed full of Indole 3's experienced no increase in testosterone production, and contrary to the previous study, no reduction in estrogen either….
Moral Of The Story?
So now that I rained on your parade a little, no worries. There are still activities you can do to naturally increase your testosterone production, and therefore improve your libido, strength in the gym, and erection quality:
Broccoli may have sold you out, but spinach is still your friend. Popeye wasn't wrong. Spinach is packed full of magnesium, and magnesium positively influences T levels.
Getting some sunlight helps as well… the UV rays increase testosterone production, as does the extra Vitamin D that is produced when it is absorbed into the body.
Other forms of Vitamin D help as well… milk, supplements.
Testicle massage under cold water on a regular basis
Activating leg muscles, and using heavy weight… maximizing the size and strength of the quads and glutes
Mr. Manpower's Guide contains a number of things you can do to increase your testosterone production naturally, along with other exercises to improve your "manliness", such as how to shorten your refractory period (get it up again quicker), and manual exercises for harder erections… check this out…
Have a good one!!
-David Carreras aka Mr. Manpower
Mr. Manpower's Guide to
Overall Manhood Enhancement
The Ultimate Sex Guide for Men… "male potency without drugs"
www.MisterManpower.net
-