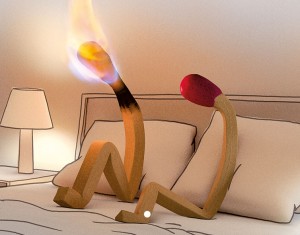 A man's premature ejaculation can create not only problems in the man's own mind, but in his lady's as well.
Andrea Burri, a clinical psychologist in Zurich, carried out a survey of 1,500 women from Mexico, Italy and South Korea, on how important a man's control over his ejaculation was to their sexual satisfaction.  40% said ejaculation control was "very important" to their sexual satisfaction… (and the other 60% were being probably just being polite).
Women said that is was not so much the short duration of the sex that caused stress and strain in their minds, but rather the fact that the men were so freaked out about it, and concentrating on their own concerns, rather than satisfying the woman's sexual needs.
Such a typical woman's answer… complicated.
A WOMAN'S SEXUAL NEEDS IS HAVING AN ORGASM.  AND SUFFICIENT EJACULATION CONTROL IS NECESSARY TO LAST LONG ENOUGH FOR A WOMAN TO ORGASM. AND THE MAN KNOWS THIS. THAT'S WHY HE'S FREAKING OUT!
Andrea explains that much like the man, a woman "avoids sexual contact for fear of rejection and the resulting trauma for her own sexuality", and therefore suffers a reduction in quality of life, and can call the relationship into question.
I know how premature ejaculation can jeopardize an otherwise really good relationship.  I had the relationship with the love of my life, many years back, go to shit because of my inability to last long enough for her to orgasm. My stress over the matter made no difference. She wasn't having orgasms during sex!
And YES, I was freaking out about it… the love of my life was slipping out of my hands due to my premature ejaculation!  What do you expect?  I could have been the coolest character around, and do you think it would have all of a sudden given her sexual satisfaction?
More jewels of wisdom in the study, that don't help men with premature ejaculation for shit:
Even though premature ejaculation is very frustrating for women, the short length of time of sex is less distressing than the men's inattention to their sexual needs (is this a riddle?)
The survey showed that an otherwise great relationship could fall apart due to the woman's psychological stress and pent-up sexual frustration (sad, but true… see my case above)
The majority of women indicated being much more satisfied in previous relationships with men who did not suffer from premature ejaculation (how is this helpful?).
And then that's it… Andrea gives men with premature ejaculation the cold, hard facts, and then offers no assistance.  Thanks, Andrea, for being so emasculating and discouraging.
==========================
SO WHAT ARE MEN WITH PREMATURE EJACULATION SUPPOSED TO DO NOW?
So I'm here to help you the rest of the way. I will show you how to overcome premature ejaculation NATURALLY and UNNATURALLY.  But most importantly, how to take care of this problem.
By now, you've seen that having premature ejaculation can be a high-risk game. But I'm not a douche, and I'm not going to share this harsh info with you, unless I have a solution. You just need to see the reality of the situation; and this info can be an eye-opener for many men.
To overcome this issue, there are premature ejaculation exercises and knowledge that can retrain your brain, to "KNOW" that you last long during sex.
It takes a little solo practice before taking it to the sheets with a woman, but with certain insights into the mind-state that CAUSES premature ejaculation, you can learn how to mentally overcome premature ejaculation; develop a sharpened, polished mind-state to last as long as you want.
Or at least long enough for your girl to orgasm, which is all that matters.
And if all else fails, you can take a low dose of an SSRI (a class of antidepressants). Doctor's regularly prescribe SSRI's for men to overcome premature ejaculation. SSRI's increase circulation of serotonin in the mind, which works to not only improve mood, but delays ejaculation as a side effect (low levels of serotonin, an indicator of depression, has been linked to premature ejaculation – talk about a double whammy).
But in most cases, even in men with low levels of serotonin, a man can learn to overcome premature ejaculation on his own… without the need for medication.  For more information on these highly-effective premature ejaculation exercises, training and knowledge, click here:
Mentally Overcoming Premature Ejaculation, Premature Ejaculation Exercises
Have a good one!!
-David Carreras aka Mr. Manpower
Mr. Manpower's Guide to
Overall Manhood Enhancement
The Ultimate Sex Guide for Men… "male potency without drugs"
-