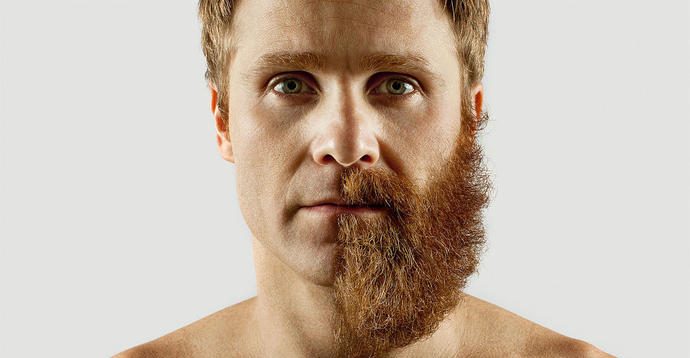 If you have a significantly smaller than average penis size, this should show some promise to gentlemen looking to increase penis size, but not trusting of the penis enlargement industry.
A 34 year old man presented to his doctor with complaints of an under-grown beard and very small amount of body and pubic hair.
However, upon further examination, the doctor discovered that besides the man also reporting having absent ejaculations & infrequent morning wood, the man had a 1.9 inch penis when fully stretched, about the size of a pre-pubescent boys penis.
Testicles were much smaller than average, as well.
These were all signs that pointed to underproduction of testosterone, due to hypogonadism.
This could have been occurring since birth, or due to some injury to the testicles… however, it most likely happened before puberty, before penis growth could occur. His testosterone levels were at 55.99 ng/dL, when the average range for testosterone levels is anywhere between 270-1,070 ng/dL.
So the doctors immediately placed him on testosterone replacement therapy (TRT), and kept him on for 9 months before measuring his penis and testicle size after treatment period.
At the end of the 9 months, his penis length was now 3.7 inches in length, and his testicles had doubled in size…
While not an extremely large final result as to penis size, and results show being a bit "murky" (in study I have access to, it said the man's penis grew to normal adult size, but that should be somewhere between 5 and 6.5 inches in length; I saw the 3.7 inches mentioned in an another article with more details, but this is below the average range), it should still be quite promising for a fully-grown man who has a smaller than average penis size & testicle size, and very little body hair.
3.7 inches is still better than 1.9 inches, and if you're quite a bit below average in penis size, perhaps a course of TRT may help increase its length and size.
(Note: please do research first on TRT and it's side effects… make sure to take Propecia if you are going to get on it, and you have hair loss in your family… which has always been my concern with the stuff).
Would Testosterone Replacement Therapy Then Work to Increase YOUR Penis Size?
Unless you suffer from hypogonadism, TRT on it's own will not likely have a drastic effect on your penis size.
But if you have micropenis or a significantly smaller penis, don't hesitate to present these findings to your doctor and get a prescription for some testosterone injections or other form of replacement therapy.
Besides reduced body hair and smaller genitalia, here are some other signs of hypogonadism to look out for:
Decreased development of muscle mass
High pitched voice
Excessive growth of the arms and legs in relation to the trunk of the body
Development of breast tissue (gynecomastia)
Undescended testicles
Erectile dysfunction
Infertility
Loss of bone mass (osteoporosis)
Having had mumps on the testicles
Fatigue
Decreased sex drive
Difficulty concentrating
Hot flashes
Now, don't do what everyone does, and see a couple of these signs, and be convinced you have hypogonadism… go to the doctor, explain your concerns, and get your hormone levels tested to know where you really stand.
On a related note, manual techniques to increase penis size have proven themselves effective, so combining them with TRT, you may be able to give the techniques an added boost in efficacy. This could possibly work for you even if you have a penis within the average range, and normal T levels.
I was able to over an inch in extra erect length to my penis, along with some good girth, with the manual techniques alone, without the need for TRT (who knows, maybe I would have, and could still, gain more if I get on TRT).
If you'd like to learn more about these exercises, see here…
Have a good one!
-David Carreras aka Mr. Manpower
Mr. Manpower's Guide to
Overall Manhood Enhancement
www.MisterManpower.net
david@mistermanpower.net
–