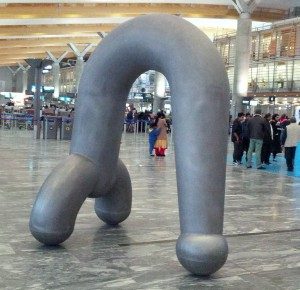 In case you haven't heard me talk about it, I always had a small flaccid penis growing up.
In middle school, I remember when a girl named Rosie leaned into my lap, in a sneaky way of feeling to see what I had, felt nothing in my crotch area, and pulled back her hand and started making a laughing / ridiculing face… combined with shock.
Her attraction for me was done… as could be expected. Especially at that age.
When I was in high school, my flaccid penis was the size of an elementary school kids penis… like it never grew. And it didn't get any better in early adulthood.
I remember women grabbing my penis out of the blue while it was soft, and incorrectly believing my penis was small at all times, because of this… My erection size wasn't bad. I was about 6 inches when hard, and I was complimented on my girth a couple of times… but I never got a chance to show them.
I also remember more than a couple of occasions at clubs, where a woman was dancing back on me, and after feeling how tiny my penis was up against her (or most likely not feeling anything at all), she'd quickly depart, and I would see her in another part of the club throwing it back on another man… for a much longer period of time. I know clubs can be some animalistic shit sometimes.. but this hurt, and bruised my ego pretty badly.
Not to mention these situations were humiliating.
Getting out of the pool in swim shorts, taking a shower with a girl (before it got hard)… stressful situations.
It's Almost As If My Flaccid Penis Size Hadn't Grown At All During Puberty
As a fully grown adult, I was a "grower" — in contrast to a "show-er", who could "show" off his penis while soft, mine had to "grow" before it would look respectable.
When around women, I was constantly pulling on it, trying to make it longer. Whenever a woman would feel on my penis before it was ready, I would feel that deep down they were disappointed (or thought less of me), and this would actually keep me from becoming erect sometimes, due to the anxiety.
Fortunately — while some women would make snap judgements based on the small flaccid size — most of the girls I've been with have been understanding and waited around till I got hard.
However, I still lived with the anxiety. I had to learn how to get hung when flaccid, and luckily, I've found a way that works.
For some time now I've been doing penis enlargement exercises. And while I know it's hard to believe, these exercises actually work. And really well.
I've gained more than an inch-and-a-half in erect length, and a good bit more girth. However, besides the larger erection, one of the coolest side effects for me is that I've also increased my flaccid penis size substantially.
How To Get Hung – Exercises For A Longer, Thicker, Heavier Flaccid Penis
Nothing better than having a hanging flaccid penis when you walk around.
With a larger and heavier flaccid penis hanging between your legs, you have this feeling of being sturdy, and solid… extra manly.
You feel more sexually attractive when around women… you feel like you have nothing to hide, and almost want women to notice your crotch area… shallow, I know, but it happens.
I do pull-ups when I'm at my gym, and I'm usually looking up while I do them, but I've noticed a number of times, when I look back down, I see a woman or two staring at my large crotch area… this fills me with "exhilarating-manly-sexual" feelings.
And as I continue to perform the penis enlargement exercises, my flaccid penis size keeps on getting longer, thicker and heavier.
For more information on how to increase the size of your flaccid penis with natural penis enlargement exercises, check this out… How To Get A Hung Penis / Hung Like a Horse…
Have a good one,
-David Carreras aka Mr. Manpower
Mr. Manpower's Guide to
Overall Manhood Enhancement
The Ultimate Sex Guide for Men… "male potency without drugs"
david@mistermanpower.net
www.MisterManpower.net
–