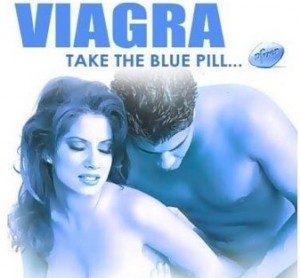 If you are concerned whether or not you can form a viagra dependency… the answer is yes.
It's not a physical dependency, but rather a psychological one…
I had a roommate a few years back, who had a connection with a "street pharmacy". This street pharmacist would give him a big bottle of Viagra for amazingly cheap.
I remember he used to come home with random floozies, and you'd hear crazy sex noises from next door (bed banging against wall, moaning)… then his door would open, he'd use the restroom (I'm guessing throwing off condom, washing his junk), then a few seconds later he'd be back in his room, and the sex noises commenced.
This dude was busting, and right away getting another erection… that Viagra can do amazing things.
Then he met his girl… the love of his life.  He pulled that marathon man, super nutting sex superman shit on her for a while… and then his Viagra stash ran out.
He began to freak out. The street pharmacy he frequented closed…  and he had formed a dependency and was reliant on Viagra to become erect
He was now going to be a one and done man like most men.
He was embarrassed because his girl had grown accustomed to him bringing the heat.  Now he'd let one out and be be out of gas… What if he couldn't even get it up now?
He began to doubt his own sexual abilities… and instead of achieving multiple, powerful erections, even after ejaculating… he experienced the opposite… sexual performance anxiety…. a sort of psychological ED.
He started to believe that without Viagra, his erection wouldn't fully function… and he went into sex feeling worried and unprepared…
And it became a self-fulfilling prophecy… for the longest he couldn't get it up.
I was familiar with sexual performance anxiety, as I had learned to overcome it years earlier… so after enjoying his suffering for a little while, I came forth and passed on my powerful knowledge on how to get an erection on command in any situation.
And with a little application of my techniques, he overcame his sexual performance anxiety, and began giving it to his lady again… he was able to overcome his reliance on Viagra
Forming a psychological dependence on ED medications is the worst (if you don't have serious physical issues, that is), because men start to doubt their own, innate ability to achieve an erection… what makes us men.
They start spending lots of money, and losing lots of self-confidence.
Listen, if you want to strengthen your erections, there are actual physical techniques and exercises to improve the blood flow to your erection, giving you harder, longer-lasting erections.
Forget Viagra.  This is more efficient then Viagra… Viagra will give you harder erections for 4 hours… Cialis will give you harder erections for a day and a half.
Erection strengthening exercises will give you harder, longer lasting erections for life, and your erection quality will continue improving as long as you keep up with the exercises.
Have a good one!
-David Carreras aka Mr. Manpower
Mr. Manpower's Guide to
Overall Manhood Enhancement
"the ultimate sex guide for men… male potency without drugs"
–