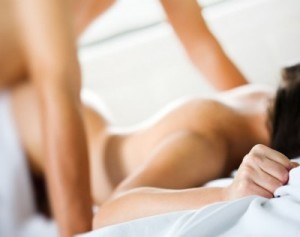 As a young man, I had a number of times where I couldn't get an erection before sex, and it made no sense to me…
Beyond not making sense, it was frustrating, depressing, and caused large amounts of anxiety.
"What was wrong with me?"… I'd think to myself.
Did I have a rare form of erectile dysfunction that only hit young men? Had I injured my penis somewhere along the way?  Was it when I was having rough sex and heard that *crack* sound?  Did I have low testosterone levels or something?
I knew I wasn't gay… I loved women too much, and was disgusted by the thought of anything sexual with men (those thoughts have never even entered my mind).
It was just ED mental block.
After a while I began to see I was BY FAR not the only man experiencing this problem.  Somewhere around 19, 20 I began to open up more and speak about sexual problems with friends, no longer having to act like I knew everything (which is what young guys do when they don't know anything about sex – act like they're champs in bed).  And I began to see that lots of my friends had experienced (or were currently experiencing) the same problem:
An inability to get hard before sex, without knowing why.
I researched on the issue quite a bit, and spoke with a few older guys who had more experience… And in time, I was able to develop the mind-state to overcome ED mental block, not just that first time, but every time.  It took a little practice, and getting used to, but soon I was able to get an erection on command, even under the most stressful of situations.
Having sex with a girl when her parents could get there any minute?  No problem… Cheating and overcoming the guilt built in with it?  No problem…
Now, was I always a role model?  No.
I've come a far way morally than in my younger days (I believe in Karma now, and the golden rule – life/experience instills that in you as you get older, unless you're a psychopath), but I just want to point out that regardless of the mental stress of the situation, I finally learned how to get a rock hard erection when I needed it.
And now-a-days?  My erections are stronger than ever… no more ED mental block… Just erections.
So how did I overcome this literal cock blocker?
First off, in order to mentally overcome erectile dysfunction, you need to admit that you are anxious. This helps you see the anxiety, and work through it.
Men give out the dumbest advice when it comes to overcoming this problem: "Just be confident"…
If you aren't feeling confident, ACTING confident will make the situation even worse… now, am I saying you need to go into sex whimpering and shaking in fear No… just mentally "view" the anxiety. Detached from it. As if you are observing a movie. But don't let it physically overcome you.
This lets you understand the anxiety better, and weakens it's power over you.
The idea is to, on the one hand, reduce the anxiety as much as possible – which lowers the "wall" blocking off the arousal from reaching your penis – , and on the other hand, increase the mental arousal (horniness), which increases the strength of the arousal signal reaching your penis.
You don't have to completely lower the wall of anxiety, having a little anxiety present is okay, and you don't have to be EXTREMELY horny (although that part really helps) in order to overcome ED mental block and get fully hard. You need to do just enough of both to get the job done…
Now once you're hard, it's easier to keep an erection (just keep the physical and mental stimulation high, without rushing anxiously).
There are exercises for stronger erections that help, too. They will greatly improve your erection quality, allowing you to get physically harder erections, quicker, that last longer.  For more information on these exercises for stronger erections, and a more in-depth guide to overcoming ED mental block, click here…
Have a good one!!
-David Carreras aka Mr. Manpower
Mr. Manpower's Guide to
Overall Manhood Enhancement
the ultimate sex guide for men… "male potency without drugs"
–