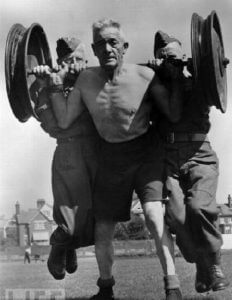 Do you currently have hard erections?
Well, your erections can be even harder…
Your erections can be physically harder and last longer… they can last so long that you can keep your erection after ejaculation… for a long time… long enough to give a woman another orgasm, and oftentimes long enough to reach a second ejaculation.
They will feel like a wooden pole covered in flesh. May sound painful for your lady… but she'll like this kind of pain.
I'm talking about stronger erections by command… like, exactly when you need them. No anxiety blocking you from getting hard…
With a combination of certain "exercises for erection strength", as well as other things you can do to naturally boost your testosterone production, you will have superman erections in bed.
Even up into old age… No medication needed later…
Your erection has a physical condition… much like you. And this physical condition can be improved.
And squats are one great way to strengthen your erections.
How Squats Help ED
When squatting, besides activating the leg and glute muscles which pump out testosterone almost like a mini steroid injection, it improves circulation around the whole pelvic area. It brings the area to life.
While not scientifically proven, I wouldn't be amazed if it strengthens the PC / BC / Pelvic swing on the up motion as well.
After performing squats for some time, I definitely experienced an improvement in erectile function, especially immediately after the workout for some time.
When doing squats and leg press, push yourself each week. Try and add some weight on your final rep each week (even a small bit helps), eat well before you hit the gym, and take your protein afterwards.
Whether squats or leg press, do a complete range of motion. If doing squats, go "ass to grass" (butt all the way down — put a stool if you don't feel safe), and on leg press, another great workout for strengthening T production, circulation, and therefore helping erectile function, put your knees to your chest.
Squats help for Erectile Dysfunction, but so do the following:
Get some sunlight when possible
Get some cardio
Ejaculate at least 3 times a week
Perform kegels on a regular basis
Natural erectile dysfunction treatments like yohimbe, tribulus terrestris, tongkat ali, muira puama can give your erection an extra kick too.
These are just some easy things you can do to naturally boost erection quality immediately, but there are more advanced techniques to REALLY supercharge your erections.
All a doctor will do for you is write a prescription… take your erection strength into your own hands… you have much more potency than you may expect.
Have a good one!
-David Carreras aka Mr. Manpower
Mr. Manpower's Guide to
Overall Manhood Enhancement
"the ultimate sex guide for men… male potency without drugs"
david@mistermanpower.net
–