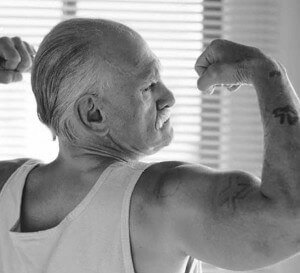 And I'm not talking about with Viagra.
Regardless of your age… regardless of your physical condition or medical issues, you can have harder, longer-lasting erections, all without the use of medication.
Nobody wants to take a pill to get an erection… nobody.
And too many men are popping this expensive remedy, when there are much better, natural solutions to impotence,using your body's own innate "manliness"…
These techniques will give you stronger erections, whether you're a young man just starting off your sex life, or even if you're an older man with or without medical issues.
Check out this question I received today (the same techniques I'm going to explain to him will work for men both young and old):
David,
I am 77 years old but still working mentally and physically and spend up to 3 weeks each year walking and climbing in the mountains of Scotland and Wales.
About 6 years ago I started the decline into Erectile Dysfunction and although Viagra helped for a few months, I also tried Cialis and Levitra, nothing helped. I should say that my partner is a highly desirable 55 year old lady and we have been together 24 years.
To try to overcome this inability to make love I have tried the Augusta Medical Systems vacuum pump system but this has two negatives. The first is the break in lovemaking when I go to use the AMS pump and, secondly, this technique makes me about 40% larger, we estimate, than a natural erection. This has made penetration painful for her.
So, I am seeking an alternative approach.
Have you any reported cases of people in my situation benefitting from your procedures? Do you conceive that what you outline in your book would have any chance of succeeding in my circumstances?
Regards and thanks,
Jeff D.
My response:
Hello Jeff:
I'm happy to hear that you are still physically active and sexually active as well… and judging by your letter, very mentally sharp.
When you spend those 3 weeks walking and climbing in the mountains, are they all in a row? Or is that accumulated time throughout the year? While it's impressive either way, doing exercise on a regular basis is more important that piling all of that physical activity into a small time frame… exercising regularly keeps a healthy blood flow throughout your body, as well as to your manly parts.
My guide has worked for men up until to your age (I've received feedback a few times from men in their 70's… not that it doesn't work often for them, but not many men your age still interested in the act… so kudos to you!)
It has also worked for obese men, and men with medical issues such as diabetes, or on medications for high blood pressure, depression and other illnesses.
My guide takes a four pronged approach to naturally overcoming erectile dysfunction by:
1) naturally boosting your testosterone production (judging by your sex drive, looks like you still got healthy T levels, but you can still get a little boost),
2) strengthening your internal "erection muscles" (such as your pc/bc/pelvic floor muscles) with advanced, kegel-like exercises,
3) improving blood flow throughout the penis with certain safe and highly-effective manual techniques,
4) addressing any mental blocks to getting an erection (at your age you may have "accepted" that you have erectile dysfunction… so even if you do get your erection going again, this negative outlook may hold you back from being comfortable enough to get all the way erect)
Rock Hard Erections Till Your 70's and Beyond
My guide outlines all of this. I am confident that these techniques will strengthen your erections, giving you longer, stronger erections when you need them (and if worse comes to worst and it doesn't work for you, just e-mail me and I'll refund you, no problem).
For more information on how to get rock hard erections at any age, click here…
Have a good one!!
-David Carreras aka Mr. Manpower
Mr. Manpower's Guide to
Overall Manhood Enhancement
the ultimate sex guide for men… "male potency without drugs"
–