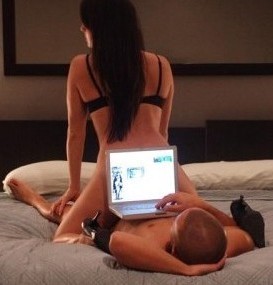 Sexual anxiety, a mental block to getting an erection, is EXTREMELY common in men of all ages.
Problem is, it's hard to pinpoint why/how the sexual anxiety started, and even harder to figure out how to prevent or overcome it.
So guys look for something to blame their ED on… and porn has become the number one scapegoat.
I receive questions on a daily basis from young men asking if porn causes erectile dysfunction. Look around forums, and you'll see the theory spreading that men should cut out porn if they are having problems getting an erection.
The reasoning behind this idea is that men are so used to viewing these extremely arousing women and visuals, that when it comes to actual sex, it is not exciting enough for them to achieve an erection.
While the theory that being so desensitized to real sex causes normal sex to be too boring to get it up, SOUNDS good in theory… it's BS.
In reality, the person is facing anxiety, which EVERY MAN faces before sex, and causes problems becoming erection. Combine this with the deep-seated guilt associated with sex, and even worse, watching porn… something that has always been considered dirty… and its a mental cocktail for ED and all sorts of feeling like shit in general…
Often men believe that they should have to pay some sort of price for their "sin" of watching porn… and that price is erectile dysfunction.
Therefore, in order to get their erections back, they should stay away from porn… (to clean their souls?).
Either way you take it, it is not true… and its not just me mouthing off against these nuts… science backs me.
Porn does not cause ED; porn actually improves erection quality
Researches at UCLA and Montreal's Concordia University found that time spent watching porn does not cause erectile dysfunction, but to the contrary, actually created a "stronger desire for sex with a partner".
280 straight male volunteers participated in the survey, stating how often they viewed porn, and their relationship status (127 had regular sex partners).
The study authors reviewed the data, and found no link between porn watching and erectile dysfunction.
The findings continued…
The participants were invited into the lab, and shown films of men and women having sex, up to 3 minutes in length. The films were a little less "deviant" than most of the porn that the men regularly watched.
The participants were asked to describe how physically aroused they became while viewing the films. The men who regularly watched porn responded much better — erection wise — than the men who didn't, or rarely viewed porn, showing that porn actually better conditions the man to respond to sexual stimuli.
You need to keep your erection "in shape".
Becoming mentally aroused, achieving an erection, and ejaculating, all three, on a regular basis, is good for your libido and erection quality.
Whether this is through regular sex with your partner, or through viewing porn, these activities will keep your erection functioning normally.
You don't "use it"… you do "lose it"… (your erectile function), as cliché as that saying is…
So what CAN you do if you are having problems getting an erection before sex?
If you are experiencing a mental block to getting an erection, due to sexual performance anxiety, don't cut out the Pornhub just yet… first thing you have to do is admit that you're anxious. This in and of itself will reduce the anxiety, and also allow you to work through it.
Trying to ignore the anxiety will not prevent the anxiety from being there; rather it will just allow the anxiety to run amok unseen, and you won't learn anything about it, and how to overcome it. Stay aware.
The next thing you have to do is just concentrate on getting as mentally aroused ("horny") as possible, without even thinking about your erection… your penis knows what to do, it just needs the proper signals…
For physical things you can do to improve your testosterone production, circulation, and physically develop harder, longer-lasting erections, check this out…
For more advanced techniques on how to mentally overcome sexual performance anxiety, click here…
Have a good one!!
-David Carreras aka Mr. Manpower
Mr. Manpower's Guide to
Overall Manhood Enhancement
The Ultimate Sex Guide for Men… "male potency without drugs"
www.MisterManpower.net
–