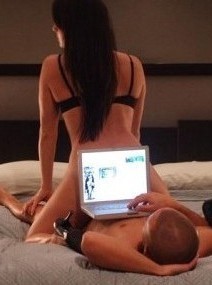 The new big thing online is this idea of "Porn-Induced ED".
While a very creative and realistic-sounding "diagnosis", porn does not cause ED… THERE IS NO SUCH THING AS PORN INDUCED ERECTILE DYSFUNCTION.
Get that BS out of your head.
SEXUAL PERFORMANCE ANXIETY causes erectile problems… not porn. Fear, doubt, worry, nerves, anxiety, etc… the negative concoction of emotions that can attack you before sex, that is what causes you to have problems getting an erection…
And some "genius" came along and said "hey, I can't get hard with my girlfriend"… and "hey, I watch porn"… so "hey, one caused the other".
And coined the very intelligent phrase: Porn-Induced ED. Posted it online… and it spread like wildfire.
Thing is, MANY men have problems getting hard before sex due to sexual performance anxiety (aka psychological ED), at least ONCE in their life. I'd say most men have experienced this at some point in their lives… and the first thing they do is rush to the internet, and look for reasons why, and a solution.
And if they're unlucky, they get hit with the porn diagnosis…
This idea has its basis in the strong western/Christian guilt over sex and porn…. that you can't have something "bad" (but enjoyable) — porn — without paying for your sins (with erectile dysfunction)…
PORN-INDUCED ED IS NOT REAL. STUDIES HAVE SHOWN THE OPPOSITE IS TRUE.
Although I bash the theory, it is indeed a good one.
And the theory makes sense — you have become so desensitized to the overly-arousing porn actresses and acts, that regular sex with a regular girl just doesn't cut it for you any more.
Shoot… even sex therapists have been spreading this myth, and giving the advice to men with ED to stop watching porn.
However, I don't believe everything I hear… I investigate before I start believing, or even worse, spreading such a killjoy theory. Plus, having experienced psychological ED myself (when younger), I was getting the feeling that porn was being unfairly blamed for this…
Science has proven that porn-induced ED is a myth…
Researchers at UCLA and Montreal's Concordia University found that the more porn that men watched, the "stronger the desire for sex with a partner".
280 men took part in the study (127 in relationships), and asked how much porn they watched, and questions about their erection quality. The researchers reviewed the data, and found no link between porn and ED.
Quite to the contrary… the participants of the study were invited to the lab, and shown short films of couples having sex. The participants were asked to describe how erect they became while watching the films, and the men who watched porn regularly had better responding erections than men who didn't, or rarely watched porn…
And the MORE porn the men watched, the BETTER the erection quality!
So take your smart theories and SHOVE IT, internet.
You Can't Blame Your ED On Porn Any More, So What Now?
As mentioned above, not being able to get an erection because of anxiety is VERY common in men… especially younger men.
When I was in my late teens / early 20's, I was hit with this psychological ED a number of times — as has pretty much every man I've spoken to about it over the years…
Rather than being something embarrassing, I've found this mental block to getting an erection as something most of us guys have in common. A brotherhood of sorts. And something to laugh about, and take the pressure off… this in of itself makes the problem easier to beat.
Once you learn to overcome this block, it comes up less often, or never again… seeing it for what it is, mental anxiety, helps you to not only weaken its grip over your arousal, but helps you learn how to beat it as well…
For more help on overcoming this anxiety and achieving harder erections on command, see here…
And please, do go ahead and visit XNXX, XVideos, BangBros or whatever your favorite porn site is… no worries, "exercising" your erection is actually good for it! Refraining from getting an erection and ejaculating for too long is bad for it… learn from science! Not online forums!
Have a good one!!
-David Carreras aka Mr. Manpower
Mr. Manpower's Guide to
Overall Manhood Enhancement
The Ultimate Sex Guide for Men… "male potency without drugs"
–