I've been through some very humiliating sexual experiences… premature ejaculation, a small flaccid size, and sexual performance anxiety were the culprits…
=======
There was a time when I was younger and I couldn't get an erection with this sexy young vixen, no matter how hard I tried.
It all started the first time we were going to have sex. I thought I was going to have no trouble keeping an erection when she was bobbing up and down on me in that jacuzzi… but out of nowhere, I lost my erection and couldn't get it back up.
It was so embarrassing… the embarrassment, mixed with the anxiety that something might have been wrong with my penis kept me from getting my erection back.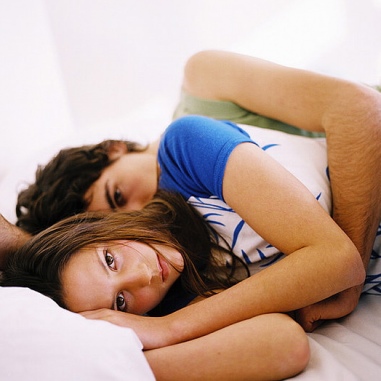 So on a later date I went back to have sex with this girl in order to "test out" my erection (and prove to her that there was nothing wrong with me), and guess what… I wasn't able to get hard again…
On a later date, in a frantic worry, I went to the gas station to buy one of those sex pills they sell at the checkout and a red bull, and the guy at the counter told me, "Hey, you're too young for that!!"
With a red face, I bought the shit anyway. Went over to the chicks house, and it made no difference, I still couldn't get an erection.
This became a vicious cycle, where an erectile failure gave me anxiety, and this anxiety therefore created more erectile failures… and so on and so on.
I couldn't achieve an erection due to sexual performance anxiety.
But since then, I've learned how to overcome this "psychological erectile dysfunction" and achieve rock-hard erections on command… more on that here…
================
Then there was the humiliation I faced over having a baby-sized flaccid penis… as a fully grown adult.
It was like my flaccid penis hadn't grown since I was ten years old or something. My erect size wasn't that bad, but my flaccid penis was just damn pitiful.
Getting out of the pool wearing a bathing suit, or wearing those soft basketball shorts felt like pure exposure of my little soft nub.
I remember being on a date with a chick, and in order to kill some time before a movie (and break up the awkward boredom), I began to "thumb wrestle" with her… I know, juvenile, but whatever… my game was real weak back then…
When she saw my hands were not much larger than hers, if at all (damn genetics), she mentioned "wow, you have small hands…"
This stabbed me right in the ego, and instantly emasculated me… so I had to bounce back with "yeah, but don't let that size fool you, I'm big where it counts…"
If ever words have come back to bite me in the ass…
Fast-forward a couple weeks, I successfully got this girl to have sex with me, and after sex we were just laying there in bed…
She began to play with my "post-nut" flaccid penis, and felt it's tinyness, and coldly said to me… "small hands, small penis…"
Okay, I'll give you this… she was a bitch. But it makes no difference. This cutting comment made my flaccid penis shrink even more. I felt like less than a man with this baby-sized thing fumbling around her fingers.
On another occasion, a girl who had been interested in me, grabbed my crotch out of the blue.
When she felt almost nothing in my crotch area, she pulled back with her hand over her mouth and made an expression of amazement, mixed with ridicule and disgust.
She told her friends, and a rumor spread that I had a small penis, and my chances with her went out the window.
However, after a couple of years of on-again, off-again application of penis enlargement exercises, I now have a longer, thicker, hanging flaccid penis… here's how…
===============
Then there was the curse and of premature ejaculation and the humiliation it brought with it!
I faced this beast for YEARS.
Every time I was going to have sex I tried to get as drunk as possible before, in order to benefit from alcohol's effects of numbing the penis and allowing you to last longer.
The most UNHEALTHY solution to premature ejaculation available.
Besides the fact that half the time I couldn't get hard due to whiskey dick, imagine getting drunk every time you want to have sex, and avoiding sex when not drunk, just to avoid the embarrassment.
It didn't really matter though…
I knew nothing about how to make a woman orgasm back then, so even if I could last a couple minutes longer then my usual two minutes, I still wasn't giving any woman an orgasm.
I thought that was just the way it was… some (manly) men were built to have sexual stamina and give women orgasms, and other (more weak) men like me were doomed to ejaculate early and leave all their women unsatisfied.
I remember one girl who I was DEEPLY in love with… I had recently become obsessed with making her orgasm.
I had looked up all kinds of info on how to make a woman orgasm, and was trying out all these tips on her.
I was deeply in love with this chick, and while she told me it didn't matter whether she orgasmed or not, I couldn't help but feel that it did. Also, she mentioned her last boyfriend used to make her orgasm, so she was probably comparing my weak performance to his, and missing the satisfaction he used to give her.
So one day I was pumping away inside her, thinking about something to keep my mind off of the arousal (a bad technique), and I rapidly approached orgasm anyway.
Her pussy felt so good, and I just couldn't hold back, so I'd pull out (another bad technique… how are you going to stop just as she's getting there?)… I'd wait about a minute, but as soon as I put it back in, I felt like I was going to cum almost immediately… so a lot of good the stop-and-start method did to stop my premature ejaculation.
Needless to say, every time I asked her if she orgasmed she told me "almost"… long story short, she left me, and got with an older, more experienced man who most likely was able to make her cum multiple times.
Hit fast-forward again…
Now-a-days, with much more knowledge on ejaculation control and how to make a woman orgasm, I can last much longer and give my girl multiple orgasms during penetration… this was how…
=====================
I give thanks for these humiliating sexual experiences.
I'm somewhat OCD, and when something bothers me, I frantically (but effectively) research on the topic.
And I've found some incredible techniques. I've written down EVERYTHING I know, including how to last longer, have harder erections, and increase my penis size, in this guide…
Let me know if you have any questions.
and have a good one!
-David Carreras aka Mr. Manpower
Mr. Manpower's Guide to
Overall Manhood Enhancement
"the ultimate sex guide for men… male potency without drugs"
–