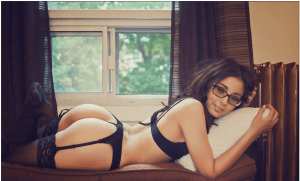 I used to have the toughest time ever making a girl cum.  I had no idea what it took to give a woman an orgasm.
I thought I had to have a bigger dick, or last longer, in order to satisfy her.
I tried all kinds of things… I tried thinking about something else to distract my thoughts (my version of "thinking about baseball" was to think of my agenda for the following week… fun huh)…
I tried fingering her ass, pulling her hair, talking dirtier, penetrating harder, and I just couldn't make her cum…I just thought I had to be more animalistic…
But I was wrong… I was concentrating my efforts in the wrong direction.
After having a couple of girls leave me because of my inability to satisfy them in bed, I started on my quest to solve the mystery of the female orgasm. I needed a surefire way to make women orgasm, I wasn't going to have another one leave me for this reason….
I first started with learning about how to eat a woman out… this was the first time I learned about the importance of the clitoris to the female orgasm.
Even if I was able to last ten minutes of penetration, my girl was nowhere near orgasm, because I wasn't stimulating the clit.  The g-spot is another avenue to make a woman orgasm, but making her orgasm with g-spot stimulation is a little more difficult (but still very possible).
So with this newfound cunnilingus knowledge I got my new girlfriend… I would eat this girl's pussy like there was no tomorrow… orgasm after orgasm while fingering her g-spot… I began to specialize in oral sex on her.
After I'd make her cum by this sure-fire method, I'd dive right in and ride until orgasm (which was soon thereafter… used to have premature ejaculation issues).
As time progressed, and my research continued, I learned more and more ways of making a woman orgasm.  I especially began to research into techniques to make a woman cum during penetration, with clitoral and g-spot stimulation.
Then came the next girl (literally)… whether legs on my shoulders, or pounding into her clit with my pelvic bone during deep penetration, I was making her cum with just intercourse… of course I threw in the oral sex, often times to get her primed and dripping wet, but most often I'd give her her orgasm(s) with the good ol' dick I got.
All the while I was learning about the female orgasm, I was also learning how to last longer during sex with ejaculation control exercises and techniques, as well as how to stay hard after orgasm with the male multiple orgasm technique.
For more information on sure-fire ways to make a woman orgasm, see here:
For a technique to last forever during orgasm, by having multiple orgasms without going soft, see here:
See ya 'round!
-David Carreras aka Mr. Manpower
Mr. Manpower's Guide to
Overall Manhood Enhancement
"the ultimate sex guide for men… male potency without drugs"
–