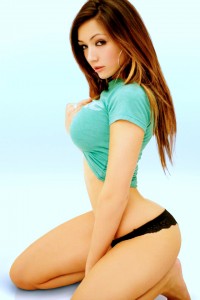 Growing up, I had several sexual difficulties… if it wasn't one thing, it was another.
When I was much younger, I had terrible premature ejaculation… as soon as I'd be in the pussy, I'd feel like cumming… it sucked.
Especially for my girlfriends.
The First Time I Was Able To Make A Girl Cum…. I Got Lucky…
Way back in the days I had this girlfriend, let's call her Sarah.  (her name was very similar).
Sarah and I dated for three years.  The first year was fun because we'd have LOTS of sex… even if I came quick, I was able to get an erection again quickly, and keep on having sex (oh, the joys of being young).
But as time went on, my refractory period got stronger, and it got harder and took longer to get an erection after cumming.
I began having to wait a while to get another erection.
The good news is Sarah and my sexual technique improved… but I didn't know why it worked (at the time).
We started doing this "facing-each-other, her-straddling-me" position.  So after I managed to warm her up a little orally, and after giving her a couple of strokes in manual or doggy position, she'd climb on top of me, and I'd  penetrate her hard from underneath, and all the while she'd rub her clit up and down on my pelvis.
I didn't understand that it was her clitoral stimulation is what was getting her off… I thought it was my intense penetration that made her orgasm.
Fast forward some time later… sad but true, Sarah left me for some dude with a bigger dick (you wouldn't want to trade lives with me… not my earlier life at least)… there was more to it than that, but this was a shocking fact that stuck.
================
When My Luck Ran Out – The Girl I Couldn't Make Orgasm, No Matter How Hard I Tried
A little time into my heartbreak I meet "Natalie"… a bad-ass, sexy-ass chick… better than Sarah, in my honest opinion… in all ways.
Natalie was a freak… she loved to give me head while I was driving (swallowed!), would play with my dick non-stop till it came alive again… she had me horny and trained like a dumb dog.
I wanted nothing more than to give Natalie an orgasm… but I couldn't.
No matter what I tried to do, I couldn't make her orgasm.  I thought I had to just last longer during sex to make her cum… but that wasn't it…
I looked up all kinds of techniques on how to last longer during sex, and how to make a woman orgasm.
Lots of useless knowledge out there… most information is that you should think of something else like baseball… get her "mentally" warmed up before you go in, stimulate her "hot-spots" while you fuck her, such as kissing her neck, slapping her ass, or playing with her butthole during penetration.
Making her wear socks… a bunch of bullshit that wasn't "concrete" enough info to make a woman orgasm.
I tried all these techniques, I managed to improve my sexual stamina, but STILL WASN'T ABLE TO MAKE MY GIRL ORGASM!…  it wasn't my lasting power that was the problem, it was my technique.
She began to get frustrated, I began to feel like half a man, and our bad sex naturally led to a break up.  I remember the last time we had sex… she told me, "you better do me right this time".  I'll never forget these words.
I proceeded to sloppily go down on her for a few minutes, turned her around doggystyle, grabbed her by the shoulder and began to "fuck the shit out of her"… I slapped her ass hard, like my life depended on it, and lasted as long as I could… it wasn't long before that juicy pussy and her sexual crying (strangely arousing) made me cum…
And once again, I left her without an orgasm.
And that was the definite end of our relationship, and she never gave me another shot…
My Obsessive Search For Answers On How To Make A Girl Cum
After that, I was convinced that I was going to win her back.
I DOVE head first into piles of sexual manuals and guides, looking for all kinds of information on how to make a woman orgasm.  My self-esteem was at rock-bootm, and I felt the only way to get it back was to give Natalie an orgasm… just one orgasm would be enough, but to win her back would be an even better prize than my self esteem.
Sad news: she never gave me a chance to try out my new techniques on her.
Good new: I now have TONS of techniques and knowledge on how to make a woman orgasm during penetration.
FINALLY, NO MORE LUCK NEEDED… I WAS GIVING WOMEN ORGASMS
Fastforward a bit more, I have my next girlfriend.  Not as sexy as the last one, but still very attractive, and an all around good chick none-the-less.
I applied my orgasm producing techniques with some MAJOR fear and apprehension… "what if all of this stuff I studied wouldn't work?  What if I failed again?" I wouldn't have been able to live with MYSELF.
'What if I just wasn't built to make a woman orgasm?"
Well, all these fears flew evaporated once I gave this girl her FIRST squirting, pulsating orgasm ever (and the first one I'VE ever caused through my own efforts)… followed up by another, and another orgasm… all from my penetration technique.
It honestly felt like a dream come true.  I shattered another self-made limitation.
I gave this girl multiple orgasms.  I went from not being able to make a woman orgasm, to giving a woman multiple, SQUIRTING orgasms.
And I've been able to repeat the process, numerous times, with numerous women.
I've learned how to make any woman orgasm… and now your can make your girlfriend orgasm using this same knowledge…
In order to make a woman orgasm, you need to stimulate one of three places (or all three at the same time) the g-spot, the clitoris or the cervix (cul-de-sac orgasm)… while a longer than average penis is necessary for hitting the back end, g-spot and clitoris can be stimulated with even a smaller than average penis.
Technique beats size or lasting power.
For all of the knowledge I've gathered over the years on how to make a girl cum, including how to give a woman multiple orgasms, and squirting orgasms, check this out…
See ya 'round!
-David Carreras
Mr. Manpower's Guide to
Overall Manhood Enhancement
"the ultimate sex guide for men… male potency without drugs"
—