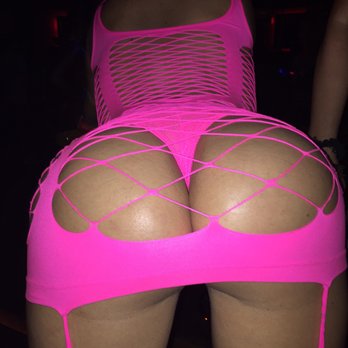 I was out having drinks yesterday with a buddy of mine and his girlfriend.
She was visiting him from out of town, and she said she'd like to go with him to a strip club, never having done so.
Now, I'm not one to shy away from a good ol' shake joint, so I began to put in their head the idea of visiting a nearby strip club I used to frequent.
In Miami, strip clubs don't follow the regular rules you may hear about with strip clubs in mainstream media, movies, etc…
There are no rules when it comes to touching… you can touch wherever you'd like, however you'd like, if the girl lets you…
They take everything off…
They go all the way in the VIP, should you want to…
Chris Rock obviously never visited a strip club in Miami when he wrote "No Sex In The Champagne Room"…
We got there a bit early, around 9:30ish, and the spot was pretty empty.
My friends seemed a bit disappointed, and I told them just to hang in there…
We ordered some drinks, hung out a bit, flirted with the sexy Cuban mulata bartender with the fat ass… and before long, the women started filing in.
I still felt a bit shaky, so needed something to knock the rust off… a stripper came by, asking for a tip (they do that here, too… apparently not normal to out of towners).
I enjoy when they ask for a tip, because you can do a whole lot for a dollar… touch where you'd like, feel what you'd like… they sometimes grab your man parts, say nasty things, it's a fun interaction… and if you make an impact, after they "make their round", they may come by and hang out with you for free.
So the stripper walked by, a very pretty Brazilian with big tits, and a nice ass… I put dollar in her top, and gave her nipple a nice squeeze.
She still didn't seem very "connected" to me, so I told her she was very pretty…lame, ABC game, but it was true… she was very pretty.
This still didn't seem to open her up yet… so then I grabbed her hand, and asked her to turn around, and let out a natural reaction: "wow, you're sexy…"
Open sesame.
(I came to the mental realization yesterday… women don't care about being told they're pretty, besides hearing it a million times, being told that they are SEXY, is far more of a turn on… knowing they are a turn on. It's more "animalistic").
She turned around, put her ass on my long penis, and began dancing on it, bending forward holding the chair in front of her.
Naturally being a "grower" since birth, I've been able to greatly increase my flaccid penis size with natural penis enlargement exercises. Also, I didn't know how long my flaccid penis was until that moment. It needed some "feedback" from other flesh — her butt cheeks.
My penis felt extremely long hugged between her nice, big natural cheeks. I felt proud of my long, large flaccid hang.
Then my penis caught some "life".
In just a few moments, I was about 60 – 70% hard… she turned around, grabbed my semi-engorged member, gave it a squeeze, and told me to "put that dinosaur away…" with a smirk on her face.
Interesting, yet creative, choice of words for my penis.
She went around, collected her tips for the dance, and then came back to me and sat on lap.
I had a perpetual boner the rest of the evening. She gave me her phone number, but not sure if I would ever call it…
Am I Archbishop Don Juan, the biggest pimp in the world? NO… of course not.
I know these women are there for money… but out of everyone she could have hung out with in the club that night, including many men who most likely had more cash on them, she came back to me… the one with the long, strong penis.
I don't think it was just the penis, but having this powerful, large dick, did give me a boost of masculine confidence.
If you'd like to learn how to increase your flaccid penis size and naturally improve your erection strength, to have a longer, stronger penis, see here… it works.
Have a good one!
-David Carreras aka Mr. Manpower
Mr. Manpower's Guide to
Overall Manhood Enhancement
The ultimate sex guide for men… "male potency without drugs"
–