When it comes to lasting long during sex, it's mind over matter.
Maintain mental control, and you will be able avoid premature ejaculation, regardless of the physical stimulation… Lose your place mentally, and you'll lose the ability to delay ejaculation.
However, with that being said, there are physical techniques — actual sex positions to last longer– you can use, in order to reduce your sexual stimulation, while turning hers up.
Two Sex Positions To Last Longer During Sex
If you know about the female orgasm, you'll know that the clitoris plays a vital role.
Without clitoral stimulation, there is no female orgasm. You can bang away as hard as you want, she may be moaning loud (which can often be a show), but that doesn't mean she's getting off.
It's all about clitoral stimulation.
These two sex positions will not only provide the requisite clitoral stimulation for her orgasm, but will help you delay your ejaculation as well in the process
1) Coital Alignment Technique (CAT) – Use Your Least Sensitive Part To Stroke Her Most Sensitive Part
I first read about the Coital Alignment Technique in the Tao of Health, Sex and Longevity. I'm not sure if the Taoists were the first to use the technique (the Babylonians were some freaks, too), but they spoke highly of it.
You place your Jade Stem (Taoist for penis) into her Jade Gate (Taoist for vagina), and rather than thrusting with an in-and-out penetrative style, you "saw" into her clitoris, putting rough pressure against her clit, mainly with the base of your penis down to mid shaft, all on the top-side of the penis. It is almost like you are "sawing" into her vagina, and more importantly, "cutting" into the clit.
Not only will you be rubbing her most sensitive area repeatedly, but you will be using the least sensitive area of your penis to do it.
This sex position will allow you to last much longer than you can with regular in-and-out penetration, where your penis head and underside of the shaft is getting direct stimulation.
I think that's what good ol' Theodis Ealey was referring to in the song Stand Up In It…
Hell of a guy, that Theodis.
2) Woman On Top – Another Sex Position to Last Longer and Improve Her Chances Of Orgasm
Many women innately know how to make themselves orgasm… Either they outright have done it before, or they just need some practice.
When a woman is making herself orgasm by riding you on top, notice her movements… it's more of a quick, back and forth rubbing of her clit against your pelvis, and your penis is just an afterthought, prodding her walls back and forth.
(Tip: try and duplicate this motion when YOU'RE on top… not easy, but with some practice you can get good at it).
Also, being that your penis is just an afterthought, it's your pelvis that will be getting the rough action, and not so much your penis. That is, unless she does that hopping up and down thing on your penis… if that's the case, you're doomed.
Just tell her to stick to the rubbing…
Deathstroke Position to Avoid If You Have Premature Ejaculation – That Is If You Want To Last Long During Sex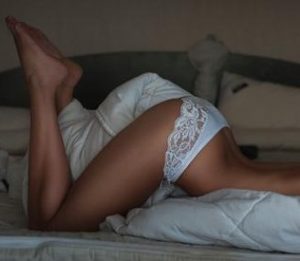 I don't know if it's the freaky visual of her heart-shaped ass backing up and bouncing/shaking off your body, the raw animalism of it, or how deeply and fully the penis gets "swallowed", but it is very hard to last long during doggystyle, especially for men with PE.
It's a great way to finish, if you've already gotten her off with one of the above positions, but even some of the most experienced men can have issues making a woman orgasm during doggy, being that the clit is so far from direct stimulation.
(Note: if her clit is very close to her vaginal opening, you have a better chance).
More Physical and Mental Ways to Delay Ejaculation and Last Longer During Sex
I used to suffer from premature ejaculation, and would finish in somewhere between 2 to 5 minutes (on my best day).
Without a doubt, the women I'd have sex with would not get off during this time. This was partially due to my ignorance about the clit when starting out, but without a doubt, I had very little ejaculation control.
Luckily, I've learned how to delay my ejaculation, and last as long as I need to make a woman orgasm… there are several ways to do this, some mental, some physical. For more on how to naturally last longer during sex, see here.
Any questions, you can reach me here: [email protected]
Have a good one!
-David Carreras aka Mr. Manpower
Mr. Manpower's Guide to
Overall Manhood Enhancement
www.mistermanpower.net
***Check out Mr. Manpower's Facebook Page! Reviews and links to my articles on other sites!
=