Penetrating a girl from behind when she's on all fours is such an erotic situation, it does something crazy to my mind… and makes me sometimes want to ejaculate quickly. Luckily, with the male multiple orgasm (MMO) technique, I've learned how to last longer in doggy style… pretty much, as long as I'd like.
There's just something about a woman's ass…
That beautiful, heart-shaped fleshy mound(s)… leading to that thin waist… and pounding back towards you while you're inside her! No way!!
So overwhelmingly sexy… In my premature ejaculation days, doing it doggy style was the death stroke… for me. A good couple minutes was more than I could hope for… and unless I had gotten her off first, she was far away from orgasm.
It just feels so good as well… you enter so naturally… no wonder most animals mount that way, I believe that's how sex is supposed to be.
Luckily, with the help of some ejaculation control exercises, I've learned to last much longer during sex. However, I don't want to last long, I want to last forever when doing it doggy style…
While the missionary position is no slacker (still fun), let me do missionary 10 or 15 minutes, and I'm ready to wrap it up… my girl on all fours, moaning, silk panties pulled to the side, while I pull her by the ponytail?
Why would I want that to end?
It's so dominating… feels so primal… but what if you don't feel dominant or primal when you're there?
I'm here to help.
Related: How to Last Long Enough During Sex to Make a Woman Orgasm
That's Where The Male Multiple Orgasm Technique Kicks In… Allowing You to Last Longer in Doggy Style…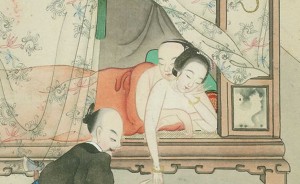 I've learned a technique that allows me to have multiple orgasms without losing ANY erection strength…
For most men, they have one orgasm and their erection and libido are wiped out… for these same men, if they are to have a "dry" orgasm, then they would maintain all of their erection strength, mental libido, and be able to continue on penetrating…
That's what I do.
So now, whenever I'm doing her doggy style, I pound hard towards my orgasm, and without hesitation pull of the multiple male orgasm technique when I reach climax, and continue on with a rock hard erection, and with a fresh start, working my way to a next orgasm.
And then I just repeat the process each time I reach orgasm.
How To Perform Male Multiple Orgasms – The MMO Technique
Performing the male multiple orgasm, every time, during actual sex… is not easy to master. But once you've learned it, it's sort of like entering a cheat code into a game – infinite stamina + infinite lives.
The idea is blocking off the ejaculation during orgasm (two separate events happening simultaneously). Do this, with a very strong, and well-timed, PC clench, and no ejaculation is released, but you still have the "dry" orgasmic contractions.
It sort of "tricks" your body into thinking you orgasmed, but without the hormonal chemical concoction that occurs during ejaculation… this let's you take off with a fresh start, and repeat the process multiple times – for multiple orgasms without losing any erection strength!
Infinite play time when doing her from behind in that amazing doggystyle position!
You just need to practice on your own first, so that you have it down before attempting it during actual sex. It's much easier to master in the peace and quiet of a private room on your own, then with a hot, naked, living and breathing woman throwing it back to you…
To master the male multiple orgasm technique it helps to become familiar with your arousal levels… mark your arousal with a number… when just starting out, you'd be somewhere around a 1 or 2. When approaching your orgasm, you'd be up around a 7, 8, or 9. Become familiar with the stages, this helps.
Really strengthening your PC muscle helps as well.
To learn how to perform the male multiple orgasm every time, see here…
Have a good one,
-David Carreras aka Mr. Manpower
Mr. Manpower's Guide to
Overall Manhood Enhancement
The Ultimate Sex Guide for Men… "male potency without drugs"
–