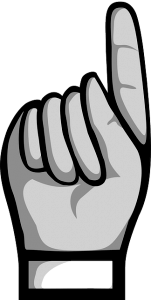 The female-kind amazes me to no end.
Have you ever seen a big, fine woman, way larger than you, but they are just amazingly attractive to you, because they are such a large and beautiful image of the female figure?
Well even if you were to have this larger than life woman in your bed, you'd be able to make her explode with delight, all with the touch of one tiny spot on her body… the clitoris.
While the clitoris, usually no larger than the size of a pencil eraser, is much smaller than the penis, it contains far more nerve endings to provide pleasure… packed into this one spot!
So you can have a 6 foot Amazonian goddess in your bed, and you can be 5'5″ with a smaller than average penis size, and STILL give her multiple, back-to-back, wall-climbing, mind-blowing orgasms… only using your fingers!
(…or tongue… or parts of your penis/body during penetration).
I generally speak on making a woman orgasm during penetration, or orally, but in this blog post I'm going to give you some tips on how to stimulate a woman's clitoris with your fingers until orgasm…
Warm up the engine
Get her aroused before you touch her clitoris… touch every spot BUT the clitoris, so when you do touch it, it will be a fully-charged and powerful touch.
Suck on her nipples, kiss the inside of her thighs, finger her… rub on her clitoris over her clothes before you take them off…
Techniques for Manual Stimulation of the Clit:
Circles:
Put your index and middle fingers together and place them over the top of her clit.
Make sure her clitoris and your fingers are well lubricated, then rub her in slow, sexy circles. Vary your speed and pressure (not too hard) until you find something that drives her wild.
Many women masturbate exactly like this, so don't be surprised if her body responds and she orgasms quickly.
You can easily do this from behind with her sitting between your legs, or lying side by side.
Up-and-Down:
Sandwich her clitoral hood in between your index and middle fingers and rub them up and down at a consistent speed. Keep your touch gentle!… the clitoris and all its surrounding areas are VERY sensitive to touch.
Thumbs up stimulation:
Stick your first two fingers in her vagina, and point your thumb up, resting on the clitoris.  Do circles on the clit with your thumb while fingering her… this should give her a POTENT orgasm… feel free to replace your thumb with your tongue on this one…
Tickle and tease the clitoris
The clitoris is sensitive to even the lightest touch. Gently run a feather or something else soft over her clitoris to drive her crazy.
Crescent moon
Stick your thumb in her Vagina and push against the upper wall with it, to put some stimulation on the G-spot.  Your palm should be the clitoris, so you can push down on it to provide pressure, which gives powerful stimulation…
Palm press
Lay on the side of her, and push the bottom of your palm slightly into her clit, with your fingers draped over her whole vagina.  Stick a finger or two into her vagina and stimulate the top wall/g-spot while lightly putting pressure on her clit with your palm
And keep the stimulation up!!
Toy around with these methods until you find one that really strikes a cord with your girl.  When you notice higher levels of arousal, keep that particular stimulation up, and DON'T CHANGE IT!
You may feel like switching it up slightly when she gets towards her orgasm, but you may end up just weakening/watering down her orgasm… stick to what got you there, and continue it on through her orgasm… and the next one, and so on and so forth until you've given her multiple, intense orgasms.
If you're looking for how to be a more knowledgable, stronger lover overall as a man, see here…
Have a good one, my friend,
-David Carreras aka Mr. Manpower
Mr Manpower's Guide to
Overall Manhood Enhancement
"the ultimate sex guide for men… male potency without drugs"
www.MisterManpower.net
–