I've always been under impression that the only pills to last longer during sex are SSRI's, a form of antidepressants.
I never came across any natural solutions to premature ejaculation.
While getting your mind in the proper state is the best way to overcome PE on your own, over the counter supplements and herbs have never been a solution (or a well-known solution, at least)… until now.
Winter Savory (Satureja montana) as a Natural Solution to Premature Ejaculation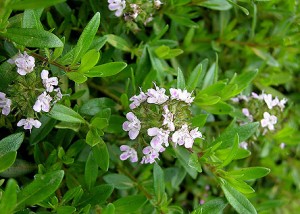 During some recent research, I came across an "old" (2011) study that had some very promising findings for men looking to overcome PE without medication.
(Note: I don't know why this hasn't been mentioned more in the MILLIONS of "top ways to last longer in bed" articles all over the internet… it's always the same ineffective crap in those articles, isn't it?)
In the study, Winter Savory, a perennial herb native to the warm regions of Southern Europe and the Mediterranean, were administered orally to sexually potent male rats.
It was either administered right before sex, or steadily over 8 days, and at two different dosages: 25 and 50 mg/kg.
The amount of time the rats lasted during sex, as well as their testosterone levels were measured.
Both methods of administering the Winter Savory, as well as the different doses, lead to the same results… rats who were able to last much longer during sex than their treatment-less partners.
Some other cool findings in the study… not only did the rats who took Winter Savory last longer during sex, but they:
Were able to ejaculate more times in less amount of time
Had higher testosterone levels than the control group
Now… studies need to be done on humans… but with such a strong effect on our little rodent compadres, the results have to be replicated at least to some degree in human males.
History and Misconceptions about Winter and Summer Savory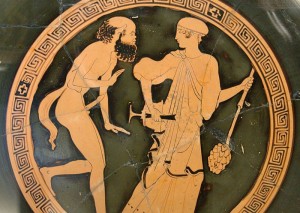 Used by the Greeks and Romans for centuries, the Savories weren't just used as an aphrodisiac, but also as a cooking condiment.
After some time, it was introduced to neighboring areas.
Egyptians and French were said to sip it in a love-potion form, the English would mix it in with beeswax and massage "unromantic women", and Italian mothers would feed it to their daughters for a month before getting married, to help their daughters "keep their men".
Ancient tales of the Satyrs (hence the scientific name, Satureja) attributed the herb for these folkloric beasts sexual stamina and prowess… Satyrs were said to seek sexual satisfaction, however, wherever and from whoever they could!
Traditionally, in herbal medicine, it was the Summer Savory (Satureja hortensis) that was supposed to increase sex drive, and Winter Savory was supposed to inhibit sexual desire… but guess they were wrong!  I mean, tell that to these little Ron Jeremy rats that took the Winter Savory, they'll let you know!
Other Natural Ways to Last Longer during Sex and Increase Libido
While studies showing its efficacy on humans haven't been carried out, and side effects are not very well-known, Winter Savory seems to be a safe, effective and natural solution to premature ejaculation.
Over the years I've researched quite a bit on exercises and techniques to become a strong lover myself, without the need to take any pills or medications. If you'd like to try to improve your sexual performance, without having to take anything (just using your innate sexual abilities), then I'd be happy to share with you what I know. Some exercises to mentally train yourself to last longer, but there are some physical techniques in there as well.
Click the links below for more information on:
Any questions, shoot them over!
-David Carreras aka Mr. Manpower
Mr. Manpower's Guide to
Overall Manhood Enhancement
The Ultimate Sex Guide for Men… "male potency without drugs"
[email protected]
–