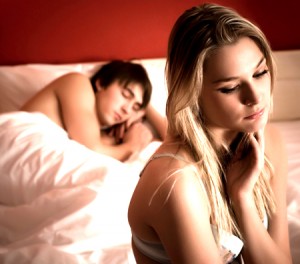 It sucks when you've had an orgasm, and she hasn't.
You lay there, in your post-ejaculation weakness, not able to enjoy it, because you're stressed that she didn't get off… this is, of course, if you care at all about being a good lover and keeping your lady happy.
Sure, some ladies will stay with you, even if you suck in bed, but many women, especially if they are hot and in-demand, will require more out of you.
I mean, imagine if the tables were turned, and she were constantly turning you on, and using your penis to get an orgasm, and then stopping right before you had an orgasm, and laying there not putting in any effort to finish you off… can you blame them?  Come to think of it, women that put up with bad lovers are saints!
But the good news is there are multiple ways of getting around this issue…
You can give her an orgasm orally or manually before you penetrate, or at least get her clit nice and warmed up before you dive in to make it easier to get the job done
Put her in a position that naturally gives her an advantage towards her getting an orgasm (like her on top – many women know how to get themselves off if you give them the reins)
Last longer before ejaculating/control ejaculation long enough for her to have an orgasm (some experience/skill is necessary for this)
Or, the topic of current conversation – penetrate full speed towards your orgasm, but learn to maintain erection after orgasm… this allows you to have an orgasm, but keep your erection, and keep on penetrating her until she orgasms.
This can be accomplished with an ancient Taoist technique. This technique, when mastered, allows you to maintain an erection after orgasm without losing any erection strength. Besides the obvious increase in pleasure for you, this allows you to last MUCH longer in bed, and is a surefire cure for premature ejaculation.
I remember when I first learned the male multiple orgasm technique.  I was trying to win back a girlfriend who left me for sucking in bed (premature ejaculation and ignorance towards how to make her orgasm were my main issues). I read quite a bit up on the technique, from different sources, because on first try, it wasn't easy to get down… but the first day I realized I REALLY mastered it, it was an extremely empowering feeling.  I was going to win her back.
Lasting Forever In The Doggystyle Position By Learning How To Maintain Erection After Orgasm
Doggystyle was a position that would always make me ejaculate quickly.  I had one of those free magazines they have on stands on the way out of strip clubs, and they had an ad with a beautiful stripper with a fat ass, bent forward. She somewhat resembled my ex, with her curly dark hair, skin tone, etc.
I masturbated as usual, keeping the technique in mind the whole time, and imagining I was doing it doggystyle with my ex… as I began approaching my ejaculation, I performed the technique, and had an orgasm complete with the regular orgasmic contractions, but my erection was still hard.  I didn't lose any strength at all.  My mind was still horny… so I continued on.  I imagined the glory I would have felt had this been with that girl…
It was as if I erased the slate, and was able to start from scratch, without losing any ground.  By this time my girl would have had an orgasm without a doubt, but I would have been hard and kept on going!  So I continued on… after the first orgasm it took me a little longer to reach the second orgasm, but when I got there, I repeated the process, was able to stay hard after orgasm again!
I ended up having a couple more orgasms and was amazed at my "performance"… now all I had to do was use it on my ex and win her back… (whole other story…)
If you'd like to master the male multiple orgasm technique, and learn to keep your erection for as long as you'd like (it's like entering a cheat code in a video game – INFINITE STAMINA), click here: How To Maintain Erection After Orgasm, Stay Erect After Orgasm
Have a good one!!
-David Carreras aka Mr. Manpower
Mr. Manpower's Guide to
Overall Manhood Enhancement
The Ultimate Sex Guide for Men… "male potency without drugs"
–