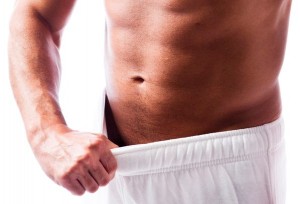 I received this email today from a young lady whose boyfriend is insecure over his penis size, and has trouble accepting his penis size.
I answered her question the best I could… This shines a light on issues many men face with penis size insecurity.
Her question:
"What to do when the man I love is so insecure about his penis size that it's ruining our relationship?"
Though we've had sex, for the longest time he would refuse to let me see it or touch it with my hands or put it in my mouth, the latter of which is something I really enjoy doing. After months of asking for it, he finally let me go down on him, and though he enjoyed it a lot, that's when things started to fall apart. Immediately afterward he asked, "now do you understand why I never wanted you to do that?" and I was honestly dumbstruck. He is of average size and actually has a very attractive penis, and knows how to use it. His insecurity is baffling, but I can never seem to find the right words to explain this to him.
On an unrelated note, I've never in my life been able to have an orgasm (not just with him, but with anyone that isn't myself). He takes this as a personal failure and considers himself even more inadequate as a result, though I've told him that it has nothing to do with HIM specifically. He insists that he can't feel better about himself until he gives me an orgasm. This is somewhat understandable and I've told him what I like, but no– it has to be through penetration. My jaw dropped when he told me that; it's a fact that only a small fraction of women can get off through penetration, and I KNOW I am NOT one of those women. He's so ignorant of all these basic sex facts (the one mentioned, or that the average vagina is 4-6 inches long so it doesn't make sense for the penis to be longer than that, that most feeling is in the outermost part of the hole, etc)…
We often have fights about these things. Unfortunately once while I was trying to make him feel better, I ended up doing the opposite. He asked if I had ever been with smaller or bigger, and I answered honestly and said I had been with both, but that bigger wasn't better because it often hurt because it would hit my cervix. He then asked if I had slept with this person multiple times, and when I answered "yes" he responded with "well it didn't hurt that bad". Since he thought I was lying and I felt like I had dug myself into a hole, I explained that it was my ex-boyfriend who I had been with for several years– my point being that that was the only reason I kept suffering through the pain, but the point he got was that I lost my virginity to some huge guy that he could never compare to.
I guess I'm not sure what I'm asking here specifically. Just a general, "help, what should I do?"
Not that it should matter much, but I am 21 and he's 29."
-Anonymous
My response:
Seems like your boyfriend is a glutton for punishment, he's attracted to the pain. It's actually in many of our nature's – male and female.
I mean, it's not so much he's insecure over his penis size, but he wants to feel "cuckolded" by the man who had the bigger penis… although his outer consciousness would never admit this. Weird, I know… but sometimes we get a strange pleasure out of jealousy and pain.
As a man gets older and accepts HIMSELF and HIS LIFE… he'll learn to accept his penis size. And stop purposely hurting himself. At his age, he should have progressed a bit more, but seems to be stuck in his ways as well…
If everything else about him is good, and he's not a constant, worrying downer, than work with him on accepting his penis penis and getting over his penis insecurity. Just give him time.
And let him know that the VAST majority of men are between 5 and 6 inches in length…. so he's most likely equal to lots of men out there.
While accepting his penis size is a prerequisite to what I'm about to say, working to increase his penis size with penis enlargement exercises is one option to physically improve his situation. I've written a guide to penis enlargement, here….
As to frantically trying to make you orgasm.. he's believing your inability to orgasm has to do with his imagined smaller penis size… but in reality, that's not true. Remind him, you didn't even orgasm with the bigger penis your ex had… clitoral stimulation is necessary for you to orgasm, and some penetrative techniques can stimulate the clit at the same time… send him an anonymous link from an invented email address here!
Hopefully this information will help him accept his penis size, and improve the situation should he choose to!
Have a good one!!
-David Carreras aka Mr. Manpower
Mr. Manpower's Guide to
Overall Manhood Enhancement
The Ultimate Sex Guide for Men… "male potency without drugs"
www.MisterManpower.net
–