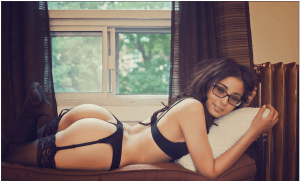 There's so much bullshit out there on the female orgasm.
The one that makes me laugh now are the "guides" or informational articles that say things like it takes 20 minutes to make a woman orgasm.
Maybe 20 minutes of ignorant, regular, in-out penetration.  That's because with that type of penetration, you're not hitting the clit the right way.
Real, female-orgasm producing penetration is more like a digging, with you grinding her clit with your pelvic bone. Adding some speed to the stroke helps.
If you want to make a girl cum in 5 minutes or less, it's not the in-and-out ramming you see in the porno's.
Just last night, I went down on my girl for about a minute or two, licking her clit with one finger in her pushing into her g-spot.
Then after entering her with my erection, I hit "the stroke" that puts pressure on her clit, and kept a steady pace.  I sucked on her neck and earlobe, while pulling her hair and telling her nasty things.
After three or four minutes she was pushing her clit into me, and I smashed away until she squealed and clenched in orgasm, then released all her fluids and relaxed her muscles.
In five minutes I gave my girl an orgasm with penetration alone.
Many articles and guides on the female orgasm tell you the same BS advice that it takes 20 minutes to make a woman cum… or another terrible piece of advice, "most women won't orgasm from penetration alone"… well tell that to every girl I've been with for the last 10 years….
Things you need to do to make sure you're making a woman cum in just a couple of minutes:
Warm her up sufficiently, learn about foreplay and oral to get her nice and wet.  Lick it before you stick it.
Learn the proper stroke.  Learn to rub the clit on the in and out stroke with your pelvis.
Learn some ejaculation control, at least so you can last long enough to ride her up and through her orgasm.
Learn what she really likes other than penetration, whether it be kissing her neck, sucking her tits, kissing her mouth, pulling her hair, squeezing her ass, etc.  Most likely it's going to be one of these.
Follow these tips and you'll be giving your girl multiple orgasms in no time, then you can bust a nice satisfying nut, and you'll be able to get back to watching TV, playing video games or whatever you want to do… or you can keep on fucking if that's what you want to do, but at least you know you satisfied your girl.
If you're into becoming the best possible lover you can be, then you'll probably enjoy these articles:
See ya 'round!
-David Carreras aka Mr. Manpower
Mr. Manpower's Guide to
Overall Manhood Enhancement
"the ultimate sex guide for men… male potency without drugs"
www.MisterManpower.net
–