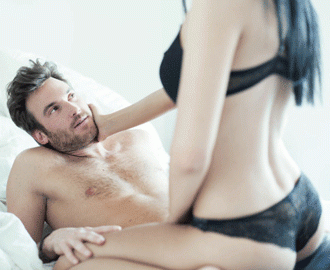 Life is a big mystery sometimes…
The refractory period following sexual intercourse with a partner is 4 times as powerful as the refractory period following regular old masturbation.
Scientists discovered this using data from 3 different studies. The amount of prolactin (the hormone that wipes out your dopamine, killing your urge to have sex again – both mentally and physically) released, in both men and women, following intercourse was 400% times higher than it was following masturbation.
This suggests greater mental and physical satisfaction following sex, as compared to masturbation.
What I don't get is… how does your body recognize this difference?
There must be hormonal secretions in the vagina that pass through into the penis, or something similar… because as far as your body is concerned, I would think that the mental and physical stimulation provided during masturbation mimic actual sex quite well…
Yes, there is the physical exertion following sex, but a 4 times difference in chemical release after sex!  That's substantial! There's something there…
Maybe the Taoists were correct…
In the Tao of Health, Sex, and Longevity, Daniel Reid describes a "powering up" method that the Taoists used to follow.  First off, you should know that in Taoism, ejaculation is described as "the little death"… it is a "spilling of your life essence"…
The idea is to save up your semen, not ejaculate, and this is supposed to power you up mentally and physically…
And to take it a step further, they have their orgasm / powering up trick…
The idea is to give women orgasms during sex, without ejaculating… the more orgasms you give a woman, without ejaculating, the more powered up you get.
Sounds like a fun (and challenging!) game, but never thought there was any science to support it.
But now that I'm seeing how strange this hormonal exchange is that occurs during sex… and that there is a massive physical change experienced in a man following sex (with ejaculation), maybe the opposite occurs (without ejaculating)?
Maybe the Taoist's had it all right… or a big part of it at least!
If you are interested, you can learn how to completely get rid of the refractory period, and stay hard after orgasm for multiple more orgasms, click here for more info…
Related Posts:
–Shorten Refractory Period – 4 Tips To Get Hard Again Quickly
–How to Stay Horny After Orgasm; Trick Your System!
Have a good one!!
-David Carreras aka Mr. Manpower
Mr. Manpower's Guide to
Overall Manhood Enhancement
The ultimate sex guide for men… "male potency without drugs"
–